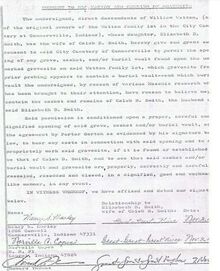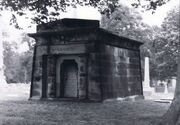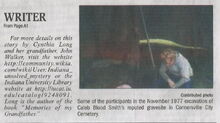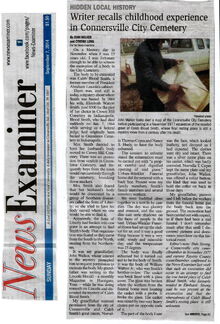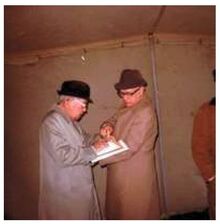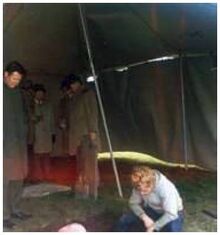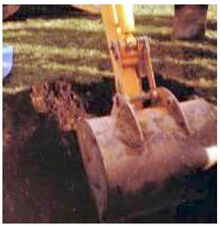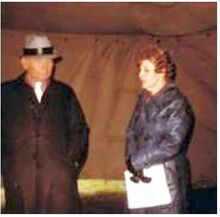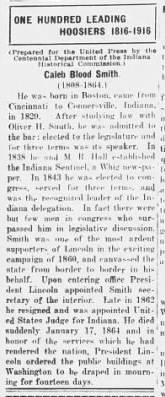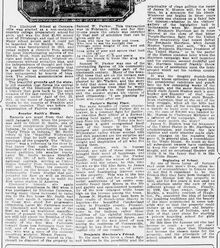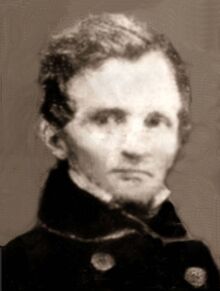 "A WEIRD Indiana Civil War MYSTERY"
CALEB BLOOD SMITH
John Walker/Cynthia Long
Copyright 2009
Link to Caleb Blood Smith on Wikipedia.org [[1]] (scroll down to "Search for body". I wrote that section, and also contributed to the external links section).The first link is the one with "Search for body" for Smith.
Refer to this page for more transcribed articles I found on Smith, Elmhurst etc> https://www.facebook.com/CalebBloodSmith/
http://community.wikia.com/wiki/User:Indiana_unsolved_mystery
https://indianacivilwarmysterycalebsmith.shutterfly.com/
https://www.facebook.com/CalebBloodSmith/
https://www.facebook.com/Historic-Elmhurst-469061219780531/
http://en.wikipedia.org/wiki/Caleb_Blood_Smith
http://johnwalkerswwiiletters.shutterfly.com
http://johnwalkeriiiwwii.shutterfly.com
https://indianacivilwarmysterycalebsmith.shutterfly.com/
*During the excavation to locate Caleb Blood Smith's body, the body uncovered was William Watton, there is a picture of me in a blue winter coat holding the silver name plate that was on William Wattons' casket. William Watton was the brother-in-law of Caleb Blood Smith, and sister of Elizabeth who was Smith's wife. I am trying to locate that picture and it will be posted on here as soon as it's is found.
On Sunday, July 26, 1977, the Indianapolis Star of Indianapolis, Indiana treated its readers to a delightful story about the city of the dead. (1)  An in-depth story about beautiful Crown Hill Cemetery and short sketches about many of its permanent inhabitants.  From James's. Riley, the Hoosier poet, whose poems have delighted the young in heard around the glove for over seventy-five years, whose remains rest in the most treasured spot of all— -the crown of the hill. To the infamous bank robber who terrorized Indiana and the entire Mid-West with his bank hold ups and his ingenious jail escapes, John Dillinger, whose bullet riddle body was deposited in1934 on the opposite end of the cemetery.
Between those two extremes the foue great and the near great wee called forth. It seems that the guide who directed the writer of the article, Philip J. Troustine, (2) was more than well acquainted with the permanent residents of Crown Hill Cemetery.
There was Benjamin Harrison, twenty- third president of the United States, who had come by the way of Ohio to find his final resting place on Hoosier soil. Then a vice president steps forward who served with Teddy Roosevelt-Charles Warren Fairbanks and other vice presidents and Vice Presidents   Thomas Andrew Hendricks, who served with Grover Cleveland, and Thomas Riley Marshall, vice president in Woodrow Wilson's Administration. Both of these men were also Governors of Indiana. Next was called the most famous of them all, the Civil War Governor, Oliver Perry Morton, who takes his long sleep among the young men he sent other President Lincoln preserve the Union.
The names of the distinguished pointed out to the author of the story of The City of the Dead seems almost endless. There were famous medical doctors, preachers, publishers, civic leaders of every dimension, bankers, the Lilly's of pharmaceutical fame, inventors, writers, diplomats, politicians, congressional representatives, senators, and members of Presidents Cabinets.
However, there is one story that was overlook—whether intentionally because it might prove embarrassing to Crown Hill or because details are not now known and may never be, we are not told.
In 1926, the trustees of Crown Hill Cemetery (a non-profit organization) employed, Miss Anna Nichols (3) to write the story of Crown Hill (4) She wrote beautifully of the early days of Crown Hill in 1864, and then she calls the roll of the honored dead much as Mr. Troustine did in 1977 with this one exception. She describes a mausoleum on the brow of a small knoll (just such a spot as a Past Grand Master of (Free) Masons who would have chosen as a place for his long home).
Moreover, if the passerby was asked who was buried there the answer would be, if they know anything of Indiana history, "Caleb Blood Smith, Indian's first cabinet member—a member of President Lincoln's cabinet." Miss Nichols then describes Caleb B. Smith's career and his death and burial. Then she implies that there is a strange chapter connected with this story. She says that the Crown Hill authorities say the remains of Caleb Smith is not in the tomb and probably never was.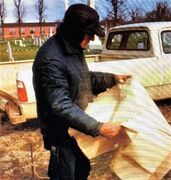 Then she calls "a weird mystery." The mystery of the disappearance of the remains of Caleb B. Smith from the mausoleum bearing his name first came to light according to the late Miss Katherine Heron, (5) local historian, and though not on the staff, a  frequent contributor to a local newspaper. (6) At the State Library, she learned that in 1917 or1918, Mr. Landees, who was Superintendent of Crown Hill, investigated, and found the body was removed to Connersville, Indiana. (7) There is a contradiction here between the accounts given by Miss Anna Nichols and that of Miss Kate Heron. From Miss Nichols' version, "The knowledge of the Crown  Hill Superintendent and other attaches  is summed up thus: A son of Superintendent Chislett, (8) Superintendent of the cemetery, then a young boy, remembers, "a stormy time" over the removal of the  body to Connersville, Indiana and thought Mrs. Smith did not want it known where it was buried."  
In this same article written by Miss Heron "about nine years ago (1921) I received a letter from a representative of the Government at Washington asking "can you tell me where Caleb B. Smith is buried"? I read the letter to Mother, she instantly replied, "In a mausoleum in the old cemetery at Indianapolis, your father attended the funeral." Miss Heron says shortly after receiving the Government letter, she received a letter from the representative of Crown Hill, Indianapolis, also a letter from the late Miss Anna Nichols who was then at the request of the trustees of Crown Hill, compiling a history of Crown Hill, each letter asked the same question.
The Smith mausoleum in the old cemetery was opened and found vacant and no one knows at this writing where this great man of local, state, and national honor is buried.
"After mother told me all she remembered of Mr. Smith and his burial, " continues Miss Heron, "I began investigating for information on the subject I found on a gray sandstone mausoleum that would not attract attention, was the name Caleb B. Smith and the date 1864." ) (Miss Heron refers to the old cemetery, but instead of being old Greenlawn on Kentucky Avenue, she must have visited the older part of Crown Hill as the remains of those buried at Greenlawn had been removed to Crown Hill and elsewhere over fifty-years before her investigation.) Miss Heron's mother did not attend the funeral of Caleb Smith and her reference to a mausoleum must have been the vault in which his remains were placed.
Miss Anna Nichols had a theory, but it contains too many weak points to even be considered. One was that a tomb was built partly in a hillside and that Mrs. Caleb B. Smith had her husband's vault brought there and place in the tomb, but when the management found out about this, the tomb had to be abandoned, as the claim was that it was insanitary (sic), she was forced to take the body back to Greenlawn for a temporary reburial. Greenlawn was being moved at this time and it was not closely guarded. If the gravesite was not marked because of the soon removal back to Crown Hill when the Smith mausoleum was completed, or if it was marked, boys racing back and forth across the cemetery could have easily knocked the marker away. So when the time came to take the body back to Crown Hill, the location could not be positively determined. This became a tragic secret with the Smith family.
The  first objection to this theory is that the lot Mrs. Smith bought  in Crown  Hill is on the crest of a small knoll and there was no place to dig part  of a tomb in a hillside (note photo of mausoleum in my book) and she certainly would not have bought another lot for a temporary burial either at Crown Hill or at Greenlawn. The date 1864 would most likely allude to the building of the mausoleum as there is no date showing his birthdate. If the remains of Caleb Smith was moved from Greenlawn to Crown Hill Cemetery, it was done after the now existing mausoleum was completed—(or before it was begun)* It does not seem logical that a protest was made about a body being taken from Greenlawn.,as Miss Heron suggests about the caretaker's son of Greenlawn because at that time Greenlawn was being abandoned, and the caretaker probably would not have cared how many bodies were removed. There were many unmarked Confederate graves as well as some Union soldiers whose identity had been lost.
When the news of the death of Caleb Smith was telegraphed to President Lincoln Jan 7, 1864, he at once ordered the flags flown at half-mast on all Federal buildings in Washington D.C. and in Caleb Smith's hometown. The following is an article from the Indianapolis daily journal.
Funeral of Judge Caleb B. Smith
Daily Journal, Wednesday morning,
Jan 13, 1864-page 3, col. 2
The funeral of Judge Smith took place from his residence yesterday at two o'clock. It was largely attended by many friends of the family, together with the Masonic fraternity, of which the judge was an honored member, many members of the bar, the Governor and staff, and the State officers, civil and military.
The funeral discourse was preached by Rev. R.C. Holliday, of the M.E. Church, from words of Scripture found in the second book of Samuel, fourth chapter and fourteenth verse. ** The sermon presented very clearly the relations of life and death. He said of the deceased that he was intellectually a Christian, an amiable, high-minded, warm-hearted man, one who loved truth and right; ever in the discharge of duty, ever ready to assist and sympathize with those needing aid. He belonged to us all, and while the responsibilities of office and the great interests of the country were crowding around him as one whose clear intellect and ripe experience and attainments were well calculated to administer and protect, his loss was one deeply felt. Many facts in relation to more brilliant career. His history is the history of the times.
The funeral processions were an imposing one, and evidence the high regard in which the deceased was held. First was the  Masonic fraternity, preceded by the National Guards Band; then the carriages, with ministers, next the hearse, drawn by four black horses, accompanied by eight pallbearers, next the family carriages, and then members of the bar, the Governor and his  staff, and State  officers, followed by a large number of other carriages, with friends and neighbors.  The procession moved east on New York street to Illinois, south to Washington, and thence on  Kentucky Avenue to the City Cemetery where the Masonic Service was performed by Grand Master Hacker of Shelbyville. The remains were deposited in a vault. A prayer was offered by Rev. J.V.R. Miller, and the benediction pronounced by Rev. Mr. Holliday.
So Caleb Blood Smith's remains were placed in a vault in the city cemetery (Greenlawn). On June 1, 1864, Crown Hill Cemetery was dedicated. At the first auction of grave lots in Crown Hill Cemetery, June 8, 1864, Mrs. Caleb Smith paid $500 for a burial plot and had a mausoleum built of grey sandstone with what Miss Nichols describes as a "quaint structure with an Egyptian suggestiveness." It does not seem a fitting  structure for the final resting place for a sign of Past Grand Master of Masons who had gone to his long home *** with no sign of a Masonic Jewel on or about it.
Masonry and Caleb B. Smith
The Grand Lodge of Indiana met at Indianapolis December 11, 1837 in Mason's Hall, James L. Hogin, Grand Master. On December 13, Caleb B. Smith (of Connersville) was elected Grand Master and on December 14, 1837 "Brother Caleb B. Smith was duly installed  the Most  Worshipful Grand Master of the Grand Lodge of Indiana, for the ensuing twelve months." --- Proceedings  of the Grand Lodge … of Indiana, 1817-1845 p. 315. Caleb B. Smith signs the proceedings for that date. The proceedings for 1838 show, however, that Warren Lodge #15 (also known as, (aka) Elmhurst, and the former Caleb Smith home) was represented by Philip Mason, and that he's acted as "G Master, pro tem." Caleb B. Smith's  name  appears in the proceedings 1833, 1834, 1835, 1836,1837,1839,1840,1841,1845.At the 1835 meeting, "On motion, Brothers Smith, Kelso, Whitman, and Walker were  appointed a committee with instructions to inquire into the  expediency of this Grand Lodge surrendering it's Charter. And if such surrender should be deemed advisable, to report such resolutions as may dispose of the property of the Grand Lodge and that of the subordinate Lodges, as may seem just and expedient." Two days  later "Brother Smith, from the committee appointed to inquire into the expediency  of this Grand Lodge surrendering it's Charter, made a  report, which was read unanimously concurred in. (Brother Smith's report was sent out to  be  printed and handed to  Brother Mason) McDonald, in his "A history of  Freemasonry in Indiana from 1806 to 1898," p. 349 says, "Brother Smith was made a Mason in Warren Lodge at Connersville by Philip Mason, Past Grand Master being initiated April 18, passed April 24 and raised April 29, 1829. He was elected and  installed as Master of the Lodge  September 8,1832, and finally reached the Grand Master's chair in 1837. In 1852, he removed to Cincinnati, demitting from his lodge to join a lodge in that city. (This was the end of his Masonic career.") Sic
On page 29 of the Proceedings of 1864, the Annual Address of Most Worshipful Grand Master William Hacker contained the following reference to Mr. Smith.
"Death of a Past Grand Master Caleb B. Smith:  (9)
It becomes my painful duty to announce the death of Past Grand Master Caleb B. Smith, which occurred, very suddenly, on the7th day of January last, while engages in holding court in this city, as Judge of the District Court of the United States.
Brother Smith was elected and served as the sixteenth Grand Master of this Grand lodge, during the darkest hour perhaps the Craft in this State ever witnessed.
His name first appears among our records at the session of the Grand Lodge in 1834, at which time he served as the Grand Junior warden, and was, before the close of the Grand Lodge, elected and installed Deputy Grand Master. In 1835, he was in his place as Deputy Grand Master.  In 1836, he represented Warren Lodge, #15, and served during the session as Treasurer of the Grand Lodge. In 1837, he again represented his Lodge, and was elected Grand Master.  From this until the session in 1845, he was uniformly present, and shared a large portion of the labors of the Grand Lodge.
I have said that this was perhaps the darkest hour the Craft in Indiana has ever witnesses. In 1834, when he first entered the Grand Lodge, although our Subordinate Lodges at that time numbered 36, we find but four chartered Lodges and one under dispensation represented. So fearfully had the Anti-Masonic persecution prevailed, that men of the stoutest hearts quailed, and but few were found bold enough to come forward and resolutely contend for the truth. Among that honored few, none came forward more promptly, or combated more fearlessly with the error that then running  rampant over our fair land, withering and blighting all within reach of its fearful ravages, then did our honored and much lamented Brother Smith.
But happily for us as an institution, in those dark days, under the providential care of God (As I can attribute to nothings less). There were found upon the floor of our Grand Lodge, such men as Stout, Tipton, Pepper, Parker, Martin, Hogan, Smith, and Morris, who have now passed away, and Sheets, Mason, Carter, Mendenhall, Schmidlapp, Fisher, and a few others who are still active among us--- men of fixed purposes and stern integrity, who like the little Spartan bank when the fearful assault came, throw themselves into the breach, resolving to conquer or die. And now, we their sons and successors, should delight to honor those faithful few, even for the truths' sake.
Some who now hear  me will remember how, at the session of the Grand  Lodge in 1845,when the Grand Lodge, with a good degree of courage for that day, in order to show to community that. If Masonry in Indiana was dead, it had not yet been buried out of sight, proposed to have a public installation of the Grand Officers, and the orator who had been provided for the occasion not coming up on time our now lamented Brother Smith, with but a few moments ' notice, came promptly to the rescue, saved the honor of the Grand Lodge, and before an unusual concourse of citizens and Craftsmen, delivered one of the most able, unanswerable, and thrilling defenses of Masonry that perhaps has ever fallen from the lips of man. I have sometimes thoughts that his effort on that occasion was something like the angel's trump, calling the dead to arise. It most certainly had that effect upon the dormant energies of Masonry in this State; for, upon the examination of our records and proceedings, we find that from this very time our Lodges, which had lain dormant for so long a time, begun to manifest signs of life, revived and went to work again. New Lodges were formed, the car of the Masonry commenced to move forward once more, until it has now reached such accelerated velocity in it's on ward movements that many among us are becoming alarmed, fearing that at the rate  at  which we  are now  advancing, we shall soon be dashed to pieces at the other extremity.
Although our deceased Brother, for many of the past years, was largely engages in public business, in the halls of our Legislature, in congress, in the cabinet, and on the bench, he always found time to give to Masonry a good share of his time and labors.
I have already said in a former part of my address, that on the 24th  of June last, I  gave him my proxy to lay the corner-stone of the new temple built by our Brethren at Muncie, Delaware county, and our honorable the Grand Master was represented on that occasion.
Although Brother Smith was at that time holding his court, yet he claimed that June 24 was his Masonic Sabbath, and he could hold no court on that day, but must give it to the interests of Masonry. He accordingly adjourned this court, performed the duties of Masonry required of him, making as I am informed, another of his most brilliant decencies of our time-honored institution and its ceremonies.
Nevertheless, he has not left us, suddenly cut down in the midst of his usefulness, and we are left to mourn his sudden departure. None may ever hope to attain a higher degree of honor, or be more useful to this day and generation than Caleb B. Smith.
I have not the data at my command to give a more particular sketch of his Masonic life and character. I hope, however, that this will be done, and his virtues places upon record, an example to others worthy of imitation. ****
 SAGA OF A LOST GRAND MASTER    (10)
The most readable story about the mystery of the burial place of Caleb B. Smith was written by Bayard Baker of Carthage, Indiana. It is the only story found that addresses itself totally to the mystery itself. All the other stories written are part of a larger story as the Anna Nichols story of Crown Hill. Or it is sometimes referred to in a footnote, as  in Louis Baileys articles in Indiana History Magazine. (11)
Mr. Baker likens the mystery to that of Moses who was buried by God in an unknown grave on Mt. Nebos lonely height. He called his story, Saga of a Lost Grand Master. He talks about a midnight burial—padded footfalls, ghouls, and secret pledges. However, he said there was no documentary proof. It was said that the removal of the body by Mrs. Smith to Connersville, Indiana was due to a "useless phobia."
There is a story that has made it's rounds in Connersville, for nearly 100 years, written by an unknown hand calledTHE CURSE OF ELMHURST, which was used in the Saga of the Lost Grand Master, in this story Samuel Parker acting as a judge refused a negro a bible to be  sworn upon—offering him a law book instead with the comment that it was as good book to be  sworn in on as any bible. Whereas the Negro angrily pronounced a curse on all who were present in the courtroom that day.
Bad luck did seem to haunt all who were in court that day. Samuel Parker died suddenly. His wife went insane. James Johnston, another lawyer saw two of his sons commit suicide. Caleb Smith too was in court that day. Mr. Baker says, "It is pure fancy to think of Caleb Smith being a victim of what could well be an absurd myth. Nevertheless, that it does make a striking bedtime story to Connersville residents.   
The eulogy delivered at Caleb Smith's funeral and the address given before the Grand Lodge of Masons in1864 by Grand Master Hacker announcing the death of Past Grand Master, Caleb B. Smith, dispels any doubts about this great man's character. One of the most beautiful eulogies given at the death of Henry Clay was delivered by Samuel Parker, Whig of Connersville, Indiana, on the floor of the House of Representatives on June 30, 1852 one day following the death of Henry Clay. The following is but one paragraph from that memorable speech. (12)
"Yesterday morning, at eleven o'clock, the spirit of Henry Clay—so long the pride and glory of his own country and the admiration of the entire world was yet with us, through struggling to be free. Ere' high noon' came, it had passed over 'the dark river,' through the gate into the celestial city, inhabited by the entire just made perfect."
The facts concerning the faith of these two men should lie to sleep forever the absurd myth of "The Curse of Elmhurst." The quest to determine if the remains of Caleb B. Smith were secretly buried in the Connersville, City Cemetery beside the grave of his 18-month son in an unmarked grave at a midnight hour has proven to be almost an obsession to the few who have worked on the project.
In a conversation in the early winter of 1976 with Fayette County's 33rd degree Mason, Porter Gorton, I raised the subject of the mystery of the burial site of Caleb Smith. I was aware that Mr. Gorton was closely associated with the Scottish Rite at Indianapolis. (13)  I asked him if he would contact Wayne Guthrie, who is the editor of the Scottish rite publication and an officer in the Indiana Grand Lodge of Masons, and a retired editor of the Indianapolis News, to see if he had any knowledge of the burial place of Caleb Smith. Mr. Gorton attended a meeting with Mr. Guthrie (14) the following week and returned with the information, "Caleb Smith definitely was not buried in Indianapolis."
The subject of the mystery of Caleb Smith's final resting place had been discussed with Leonard Urban, owner of the Thomas Brown-Urban Funeral Home, who displayed a great interest in the project of trying to solve the mystery. We decided to probe the site in the old city cemetery stated that this famous man was believed to be buried in an unmarked grave beside his 18-month old son.
In the meantime, Porter Gorton was shown the signed statement by the late Charles Reiman. (15)
April 2, 1936
When I became custodian of the city cemetery, Connersville, Indiana 1930, it was my understanding that Caleb B. Smith was buried there in the Watton and Smith lot. He had been buried originally in Green lawn cemetery, Indianapolis, and Mrs. Smith had bought a lot and built a mausoleum in Crown Hill Cemetery apparently intending to move the body there, or possibly, wishing to make it appear that she was doing so, instead she brought the body  to Connersville and had it  interred, by night, in the city cemetery.
I am inclined to think that the grave lies directly north of that of "Albert Downes, son of Caleb and Elizabeth B. Smith, " There is however other ground on the lot which might contain this grave.
In the years since, there have  twice been members of the Watton family here to visit the family lot in the cemetery, and they have told me that the above was their understanding also, and that Mrs. Smith had wished for some reason the location of the grave kept a secret. (Mrs. Smith's father William Watton is buried on this lot)
I cannot state as an absolute fact that Caleb B. Smiths body is interred here, but such has always been my impression. Excavation on this lot might prove the fact definitely.
I consider it unlikely that the burial was in the Samuel Parker family plot at Elmhurst; a theory held by the late Miss Kate Heron. 
Charlie Rieman
This statement in turn was shown to the Grand Master of Mason, Rollin K. Smith, who was also very interested. Mr. Gorton promised to inform him (Rollin Smith) of the findings of the probe when this writer got the probe completed. (The Grand lodge has installed suitable historic markers at the gravesites of all Past Grand Masters)
The Probe
At 9:00 am Saturday morning May 7, 1977, a small group of men met at Urban's funeral home prior to going to the old City cemetery. Frank Gilbert, retired Superintendent of Dale Cemetery, who had been asked by Mr. Porter Gorton to do the probing --- Porter Gorton, Leonard Urban, and the compiler of this article, Johnny Walker (my grandfather). At the cemetery we were met by Dale Strong, City Councilman (representing the city), who had been called early in the morning and informed of this even that was to take place as he too had shown much interest in this project and had visited the gravesite with the writer some months earlier.
This could be an important event relating to the Lincoln administration. Had the war dissenters (The Sons of Liberty). Who had hounded and threatened Governor Morton, the loyal supporter of the Union cause in the civil war and President Lincoln prompted her to steal his body from the Indianapolis Cemetery and have it secretly buried at night beside his son. Many historians of Connersville, including the late Lowell Smith, author of The History of Elmhurst believed that Mrs. Caleb Smith feared "The Sons of Liberty" and feared they would destroy the body of her husband  if it could be found. He also stated in his story of Elmhurst that the vault indeed of Caleb Smiths bother in law, Honorable Samuel Parker, twice a member of Congress and President of the White Water Canal, who is buried on a hill behind Elmhurst was broken into in the search by "The Sons of Liberty" for the body of Caleb Smith. Perhaps these events cannot be documented, but it does show the deep feeling that ran both ways in Fayette County, Indiana during and shortly after the Civil War. Mr. Lowell Smith, who always proved to be an accurate historian, said he believed that President Lincoln sent Caleb Smith back to Indianapolis for the express purpose of riding heard on "The Sons of Liberty", who was giving the Union so much trouble in Indiana.
We would soon shout, "Eureka, we have found it, "or would this be another "dead end"?
Frank Gilbert, P.M, of Warren Lodge # 15, Connersville, Indiana began to probe. At first he hit a few gravels and rocks, then suddenly when his 6-foot prober reached the depth of the about 4-feet he struck something solid with a hollow sound. Then he began other probes to determine if it was an adult vault---after probes 6'x 3' and striking the same obstruction as the same depth, Frank Gilbert exclaimed, "Boys, this is  it:"
Frank then proceed to probe other graves of about the same age but the probe without and obstruction would easily sing to its full length, indicating that all the other deceased of that period had been buried in wooden caskets which had long since deteriorated.
It was then decided that Porter Gorton would call the Grand Master and report the findings. Dale Strong would stop at Urban's  and pick up a book that contained the law concerning the  removing of the earth to inspect the vault for a name plate, Masonic Emblem or other identification on  the outside of the vault.
Nevertheless, if Mrs. Smith had the body removed from Indianapolis and buried in Connersville secretly at night without a headstone because of fear of War dissenters, wouldn't she have had any signs of his presence removed from the vault?  Document below- (not complete document)
When the compiler of this article, my grandfather, John Walker arrived, a tent had been sat up over the gravesite—the sod had been carefully removed in sections and the earth had been removed to a depth of four feet by pick and shovel. When the writer asked about the vault, the writer was shown some flat rocks of various sizes that had been unearthed. These rocks proved to be the  vault we had struck when probing the site months earlier--- Leonard Urban who had his employees doing the work told them to keep digging to a  depth of six feet as he wanted to settle this question once and for all. (The many flat rocks found added to the evidence that the Old City Cemetery was at some day ages ago a river bottom)
By this time the visitors had arrived and most of them took refuge from the 25 degree temperature inside the temperature where Porter Gorton had set up a space heater.
The feeling of Gloom and disappointment added to the embarrassment felt by having these distinguished visitors who had come afar only to peer into an ever-deepening empty hole in the ground prevailed. However, one onlooker displayed a different view altogether. This is her story—she consented to have the unmarked grave examined because she said as a young  child she recalled her mother telling her  to disregard the stories about Caleb B. Smith being buried in the city cemetery because she knew definitely that he  was not. She went on to say she thought her mother had told her where Caleb Smith was buried, but being only a child she thought it  of little importance. Norvilla Thomas Copes said she was under the impression that he had been buried at Elmhurst.
Kate Heron, the local historian who died around 1936, also leaned toward this view. P.G. M., Charles Brown was overheard to say, "Although his (Caleb B. Smith's) remains were not found, you have cleared a question mark that has been in several minds for many years as to just who was buried in the grave just excavated. "
Since the statement by Mr. Rieman contained the fact that there was other locations on the Watton lot where the missing grave could be, Mr. Urban ordered further probing to be done. In a very short time on another unmarked grave what appeared to be the top of a vault was found. This one was probed more extensively—about every 12 inches at the depth of 4 feet something solid was struck down both sides—both ends and down the middle—everyone agreed it must be a grave—but the hour was growing late and that was a lot of dirt to be moved by hand. Leonard Urban and Porter Gorton decided to have the earth removed down to the top of the vault. The backhoe arrived in a short time and the expert operator carefully scooped out the dirt down to the top of the vault. Then Leonard Urban himself carefully removed the remaining loose dirt with a shovel. The top of the vault had a crack across the middle indicating that it might have been made in sections. Leonard Urban asked the operator of the backhoe to place his scoop under the west end of the slab, lift it up on its end and hold it there until he could block it so it would not fall. This done, Leonard Urban lowered himself into the grave. This was an old oak casket and proved to be in a very good state of preservation---shortly Leonard asked, "Did Caleb Smith have a beard?" He was told that all pictures of Caleb Smith showed him to be clean-shaven. "This man was a "Brother Mason", Leonard exclaimed, a name plate was found on the old casket – greatly corroded but readable. "Wm. Watton, Jr" A brother in law of Caleb B. Smith. One of the older Past Grand Masters who had been peering intently into the opened grave was overheard to exclaim softly, "The remains of our Past Grand Master Caleb B. Smith cannot be found within the confines of this cemetery. This chapter is closed." Perhaps Norvilla Copes had the last word, "Wouldn't Mama be happy today!"
Porter Gorton says that the other probes and excavations might be made at the old Parker cemetery on a hill behind Elmhurst Mansion (Where it is related in the History of Elmhurst.  That was his choice for his final resting place." However, the ravages of time had vandals who have roamed these woods will make a difficult under taking. Porter Gorton also relates that on a visit with Nancy Hurley, she told him the story about playing at Elmhurst as a child and she was admonished never to go into a certain room in the cavernous basement as a man had been buried there. This Porter hopes to investigate.
Following is a letter from Senator Harry S. New. Of Indiana:
Harry S. New
 Edgemoor Lane
Bethesda, Maryland
May 11, 1936
Dr. Christopher B. Coleman, Sec,
Indiana Historical Society
Indianapolis, Indiana
I have this day received your letter of May 9 with enclosure from Charles A.Reiman with reference to the probable burial place of Caleb B. Smith. When I was in active search of information on this subject, I wrote to Mr. Reiman, but never received so much as an acknowledgement of receipt of my inquiry.
I think that the probability is that Mr. Smith's remains are buried in the Watton lot, but I would not personally dislike having them disinterred without the approval of the surviving relatives, if any. I certainly do not want to lead any such enterprise. As to my contributing towards having the project completed, I do not want to be regarded as stingy or to have my motives misconstrued, but it seems to me that if the work is to be undertaken at all it should be either by relatives or someone having a direct personal interest in the whereabouts of the body.
I have written an article concerning this mystery, which will some day and in some yet undetermined form be published. It very closely follows the general lines of Mr. L.J. Bailey's article but goes considerably further.
I have written a number of stories bearing upon Indiana's men of prominence and incidents political and otherwise but I do not know to this day, what I shall finally do with them. Some day, when I am at home. I may call on you to reference to them.  
Very Sincerely Yours,
(Signed) Harry S. New
Senator New had written Charles Reiman and seemed quite disturbed because he did not receive an answer. This was in 1936. But Mr. Reiman gave his statement to the local library, which was sent to the State library, and finally on to Senator New.
Senator Harry New seemed concerned about the loss of the burial site of Caleb Smith. He wrote several letters to the state library showing great concern. When it was suggested that he pay for the excavation of the grave, he quickly backed away and corresponded no more. (16) At that time the cost would have been minimal, only about 20 dollars. Nevertheless, perhaps he was concerned about possible legal entanglements because without signed statements from the living descendants of the deceased giving their permission for excavating the site, a very serious charge could be made.
It was not until Charlie Reiman was questioned about this matter that Connersville remembered her famous citizen of long ago. As has been stated, there are now signs that Caleb Smiths likeness painted on them on the East and West sides of the old city cemetery in Connersville.
Two Reiman daughters, who still live in the same house across the street from the city cemetery, say the signs were placed there after their father became custodian, but they cannot remember the exact date. They are both still very active in business, Reimans Flower Shop, across the sreet from the cemetery. One of the sisters is a trustee of Indiana University. These signs are wooden and of course they have been replaced several times.
Barrows History of Fayette County, written by Dr. Ernest V. Shockley of the History faculty of Indiana University he states the following excerpt on page 585:
Caleb B. Smith, a resident of Connersville, from 1827 to 1851, a member of  congress for three terms and secretary of the Interior under Lincoln, was one of the most distinguished men Indiana has ever produced. He served his state in the Legislature and the nation in Congress and as a member of President Lincolns Civil War Cabinet. At the opening of the Civil War an enumeration of a dozen of the nation's greatest men would have found the name of Caleb B. Smith one of the number.
The minutes of Warren Lodge #15 F & A.M. make no mention of Caleb Smith after he left Connersville for Cincinnati in 1852, though he was Master of Warren Lodge in 1829 and Grand Master of the Grand Lodge of Indiana in 1837. No mention was made of him being neither in Abraham Lincolns Cabinet nor of his death and burial. It seems strange since the man who made him a Mason, a Past Master, or Warren Lodge, and who served several times as a Grand Master of Indiana.
Dr.Philip Mason, a close friend of Caleb Smiths. Several of Dr, Mason's speeches is reported in full, but there is never a mention about their former member who had become famous.
In a copy of Elm Twigs, the school yearly published by the Elmhurst school for young women (17) since it had occupied the former home of Caleb Smith contains the following item contributed by the first national bank of Connersville.
Elmhurst School
Occupies a historical building. The main part dates from1831. Oliver H. Smith built this part. Samuel W. Parker, also, in Congress lived here. James N. Huston, U.S. Treasurer added the wings. President and Mrs. Benjamin Harrison frequently visited the mansion. It became Elmhurst school in 1909.
Again no mention of Caleb Smith. The story of Crown Hill, Anna Nichols states that some people thought Caleb Smith was buried in Connersville, but no one in Connersville seemed to think so.
After reading all the stories connected with this so called "Weird Mystery" it is this writers belief that Caleb Smith is buried near his wife Elizabeth Watton Smith. This is only a theory and cannot be proved or disproved. Mrs. Smith made all the plans for the final resting place of her husband. Caleb Smith was buried in a vault in old Greenlawn Cemetery Jan 7, 1864. The New Crown Hill Cemetery was dedicated July 1, 1864 and one week later Mrs. Smith paid $500 for the plot of her choice and lots and had the mausoleum constructed C.B.Smith Carved above the entrance on the floor between two Egyptian Like columns is also carved C.B. Smith 1864. As this was one of the first mausoleums built in this new cemetery and it as the time was located "away out in the country" and if she feared easily with or without permission had her husband safely buried and the mausoleum built over top of the grave.
This writer joins all the others who have been obsessed with this mystery—hoping that someone will produce a document or some knowledge that will solve this "weird mystery".
Johnny Walker
Rural Route 2 (now RR.6) 
Now 2857 West Substation
Connersville,Indiana 47331
My grandfather John Walker
Transcribed by Granddaughter, Cynthia Long
Copyright 2009
Footnotes and Asterisk
1.      Up to date story of crown hill cemetery
2.      Feature writer for the Indianapolis star.
3.      Editorial Staff of Indianapolis Journal 1881-1904,
Editorial writer Indianapolis Star 1904-1926.
An Idyl of the Wabash (short stories) 1898.
The making of Thomas Barton (short Stories).
A History of Crown Hill 1926
Anna Nichols died January 29, 1929
4.    Privately Printed by Crown Hill
5.   Connersville Historian 1920s and 1930s
6.   Connersville News Examiner
7.   Since the remains of Caleb Smith were not found in the Mausoleum bearing his name, he assumed the story was true that his body had been returned to the city where he had lived for 25- years and laid to read beside his infant son.
8.   Miss Anna Nichols Version.
9.   From the Caleb B. Smith file, Connersville Public library.
10.  Indiana History magazine, Vol. 29 by Louis Bailey
11.  Is no 11 mis marked?
12.  Like of Henry Clay—book finished by Horace Greely (not marked 11, but 12)
13.  A Masonic affiliated body, consisting of 32 degrees and an Honorary 33 degree.
14.  Mr. Guthrie passed away Nov 5, 1977
15.  Caretaker of the City Cemetery in the 1930's Mr. Baker of Carthage, In also used Mr. Reiman's statement in his Saga of a Lost Grand Master in Indiana Freemason magazine 1955.
16.  Librarian of Connersville, In writing about response of Senator New May 13, 1936.
17.  Elmhurst School for girls 1909-1929—Elm Twigs school paper.
18.  Theroy about burial elsewhere in article
19.  Samuel II, Chapter 4 only contains 12 verses.
20.  Ecclesiastes Chapter 12, Verse 5
21.  Grand Masonic Records of Indiana
-----------------------------------------------------------------------------------------------------------------
More websites
https://www.facebook.com/CalebBloodSmith/
https://en.wikipedia.org/wiki/Greenlawn_Cemetery_(Indianapolis,_Indiana)
https://www.findagrave.com/memorial/7666329/caleb-blood-smith
http://snaccooperative.org/ark:/99166/w6qc02zh
https://www.in.gov/library/4850.htm
http://bioguide.congress.gov/scripts/biodisplay.pl?index=S000519
https://www.history.com/this-day-in-history/caleb-blood-smith-dies
https://en.wikipedia.org/wiki/Caleb_Blood_Smith
https://academic.oup.com/jah/article-abstract/20/4/610/785908?redirectedFrom=PDF
https://books.google.com/books?id=BkYhDQAAQBAJ&pg=PA876&lpg=PA876&dq=Caleb+Blood+Smith%27.+By+LOUIS+J.+BAILEY&source=bl&ots=SlYwq_Q7gj&sig=epcDsnEGfrSV5IAAMymHYHfe3lA&hl=en&sa=X&ved=2ahUKEwisu5TGw7vdAhVCwYMKHe7wA-0Q6AEwDHoECAMQAQ#v=onepage&q=Caleb%20Blood%20Smith'.%20By%20LOUIS%20J.%20BAILEY&f=false
https://millercenter.org/president/lincoln/essays/smith-1861-secretary-of-the-interior
http://www.loc.gov/pictures/item/2002697297/
https://gravelyspeaking.com/2016/07/14/still-missing-mystery-unsolved/
https://www.wattpad.com/story/9505071-lincoln%27s-former-cabinet-member-excavation-of
http://www.vipfaq.com/Caleb%20Blood%20Smith.html
https://books.google.com/books?id=4ClEAQAAMAAJ&pg=PA585&lpg=PA585&dq=Caleb+Blood+Smith&source=bl&ots=v0xKFUj3g_&sig=Vf3NNnIf3RYCRz0hJtxTGdCfN4g&hl=en&sa=X&ved=2ahUKEwjHvM-Gx7vdAhVK64MKHXL_BiE4MhDoATAEegQIBRAB#v=onepage&q=Caleb%20Blood%20Smith&f=false
---

History of Historic Elmhurst 
One of the most beautiful sites in Fayette county is the picturesque home and surrounding grounds now known as Elmhurst, though its early history is recorded under the name of "The Old Elm Farm."  Situated on the west side of the Whitewater Valley along the banks of the Whitewater Canal and adjoining the south edge of the city of Connersville, it played a prominent part in the development of this section of the state.  It was the home of those responsible for the early growth and advancement of the city as well as the State of Indiana.  
All of the historic building was not constructed at the same time. The nucleus of the present structure was erected in the year 1831 by the Hon. Oliver H. Smith, then a member of Congress.  His contribution to the magnificent building consisted of principally four rooms. The building was of brick, two stories in height with immense chimneys at each end with the addition of a frame structure on the back, which was used for the kitchen and dining room. It is said that he located his home at this particular spot because of the choice view of the valley it afforded and the fact that the old Indian Trail passed directly in front of it, then continued past the house a short distance to a well-known spring that the Indians often visited on their trips through the valley. This trail then branched off to the west and up the hill to what is now known as Jenny's Point, the highest point in Fayette County, where the Indians had fire bowls located for their signal fires.  Smith was very friendly with the Indians and befriended them at every opportunity. He wrote several books is best known for his "Early Indiana Trails and Sketches" which was published in 1857.  In this he refers to his purchase of this land as follows: "I bought the fine farm of one hundred and sixty acres, adjoining Connersville the same now the residence of my friend the Hon. Samuel W. Parker, of John Adair, of Brookville. For $9 dollars per acre, in three installments without interests."  This transaction is recorded January 3, 1831.  
It is not known how long he lived in his new home, but shortly afterward he purchased a pretentious home located in the heart of the village of Connersville and moved there while his Whitewater mansion became the residence of the Hon. Caleb B. Smith, member of Congress for three terms, and Secretary of the Interior under President Lincoln.  He also served his state in the Legislature from 1833 to 1840 and was speaker of the House in the sessions of 1835 and 1836.  He was one of the most eloquent and powerful stump-speakers in the United States.  This distinguished man died in Indianapolis in 1864, and according to tradition, it was his dying wish that he be buried on the ground of the estate he loved so well. Whether that wish was fulfilled is not known because to the present day there is no true evidence as to his exact burial spot. 
The farm at this period, so history states, formed an important link in the Old Underground Railway.  The trail forked here, the West prong leading toward Union City.  A brick building still stands on what is now known as the Gamble Farm, but at that time part of Old Elm Farm, which was a haven and refuge for escaping slaves from the South.  
The estate next became the property of James Shaw on November 13, 1838, and later of Nicholas Patterson on February 14, 1842, and from the latter it passed into the hands of the Hon. Samuel W. Parker, recorded under the date of February 23, 1850.  Parker was a member of Congress from 1851 to 1855, and a resident of Connersville from 1828 until his death in 1859.  On his return to his home from Washington, he divided his attentions between the practice of law and the direction of his varied railroad interests.  He was president of the Junction railroad Company and for several years' president of the Whitewater Canal Company.  It is said that the canal boats on their trips up and down the canal, as they passed his home, would toll their bells in respect to Parker and that he would answer their salute with a bell which he had installed by the front porch of his home. Parker gave his support and tended valuable aid to the career of Henry Clay and tradition has it that this great man was entertained within its spacious walls.  
To Parker is given credit for beautifying the grounds that surrounded his home, for it was he who planted many of the trees that are standing today.  The dwarf catalpas now in the foreground of the state were set out by Parker. He started the first remodeling of the building, paneling the lower front rooms with the solid cherry that graces the walls of the lobby today.  
On the slight elevation at the rear of his home, he dedicated the Parker cemetery and in order that his remains should never be disturbed, Parker with his own hands, built tombs for himself and sister.  They were intricate structures of solid flagstones, brick lined with bottom of gravel for drainage.  His wishes were disregarded for his final resting place was later broken into in the search for the remains of Caleb B. Smith. 
A simple marble shaft on which is inscribed the one word "Parker" marked his grave.  The splendid grove of trees he planted and cared for is a more fitting monument to his memory than is the marble which gives no information or history.  
The estate next became the property of James N. Huston through a foreclosure sale in 1881.  Huston is said to have entertained Benjamin Harrison and his first wife, Caroline Scott Harrison, upon numerous occasions, one of the bedrooms being reserved exclusively for their frequent visits.  
During Huston's time, the building was extensively remodeled, being pattered along the lines of the White House in Washington.  The massive porch columns and wings at both north and south ends of the old structure were added and the paneling started by Parker was continues.  This included the oak stairways and panels in upper room and hall and dining room at a cost of around 44,000.  These panels and stairs are not restored and are prominent parts of the present decorative scheme.  The estate was often referred to as "The white House of Indiana."  
When senator Huston occupied the residence, it was part of an estate of over eight hundred acres known as "The Old Elm Farm." from the ancient elm grove and particularly the single giant elm that stood in front of the building.  Huston was the political manager for Benjamin Harrison who later appointed Huston United states Treasurer. 
It was Huston who added the huge fireplaces in both the upper and lower halls.  The fireplace, which now is the center of the present lobby, is made of carved red sandstone and polished granite.  Huston commissioned a noted sculptor to carve the likeness of Indian Joe, a crippled Shawnee Indian, who remained in the valley after the remainder of the tribe were sent to a reservation.  This Indian was a famous character known to the early settlers of the valley, and as the story goes he was buried somewhere on the grounds of the states.  The sculptor used an old tintype of the Hustons to obtain his likeness and while working at his task he was watched by a stable boy, a dwarf negro who whistled constantly.  After completing the profile of Indian Joe, the sculptor to balance the design obtained Hustons permission to carve the profile of the whistling negro boy on the opposite side.  
The building next passed into the hands of Andrew Daum in March 1901.  Daum added the north wing known as the Daum Annex.  This annex consisted of 26 rooms and was used as a sanatorium and at this time was well known throughout the country.  Dr. A. H. Daum on one of his trips to Europe, contacted a strange disease which caused his death at the height of a promising career.  His body was placed in the Parker burial plot and for over a month lanterns stood at his grave and a guard stationed to insure no molestation by those who sought to solve the enigma of his strange malady.
The Daum's finally disposed of the property in April 1902, to Charles Chambers and Ella Porter who operated a sanatorium under Dr. W. J. Porter, later when "Old Elm Farm" was divided and sold, Mrs. Porter applied the modification name of "Elmhurst" to the part retained which consisted of the house and one hundred and forty acres. The estate was then sold to the Connersville sanatorium Co. in August of 1903.  
In June 1906, Elmhurst was purchased by George B. Markle of Hazelton, Pennsylvania, who used it only as a summer home.  
Three years later in 1909 the "Elmhurst School for Girls" was established.  This school was directed by Isabel Cressler and Caroline Sumner for the purpose of giving the girls of the Middle West educational opportunities equal to those to be had in the Eastern Schools.  Elmhurst was a unique school in many respects. In the first place the enrollment was originally limited to twenty-four students, the number which could be accommodated in the building, although at one time there were as high as forty enrolled.  While the school was strictly non-sectarian, it was permeated with a religious atmosphere.  The school property comprised one hundred and forty acres and by utilizing the tillable land, the school developed a combination agricultural and domestic science course which was unique in the work of private schools for girls.  
Daughters of both prominent and wealthy families obtained their education at Elmhurst.  The Italian marble drinking fountain was presented by George Ball of Munsie to the school while his daughters were enrolled.  This fountain is now in the dining room of the present remodeled structure.   
At this time the magnificent forest trees surrounding Elmhurst furnished of its distinctive features.  The famous Elmhurst Elm stood ninety-five feet high and measured more than sixteen feet in circumference at its base.  Good authorities placed the age of the tree at close to four hundred years.  The tree was cut down in 1935 due to its endangering condition, and it said, the wood when cut furnished heat for the building for an entire winter.   
Standing near the building on the Soutwest corner was a Catalpa Speciosa, eight feet in circumference and one of the best specimens of this variety in the country.  This tree fell in 1934, on a calm summer day.  
It is said that at one time there was a specimen of every known variety of tree that would grow in Indiana, planted and growing on Elmhurst beautiful acres.  
The school closed in 1929 and the estate came under the control of Manfred Dale.  It was vacant until the Pennington Military Institute was started by a Mr. Lewis who operated the school for about a year.   In 1931 Herbert bard, an Eastern professor sought to open a private school, which subsequently proved a failure.  
The building then stood idle except for a caretaker, Robert Ingersoll, until purchased by warren Lodge No. 15, F. & A. M. to be used as a Temple by the Lodge.  Extensively remodeled and restored to its grandeur of years gone by, it stands today as a landmark of beauty, a magnificent link between the days of early development of Fayette County and the present day.  
-----------------------------------------------------------------------------------------------------------------------------------------------------------------------------------------------------------------
Other Elmhurst links
http://www.fayettefoundation.com/features/elmhurst-thrives-with-endowment-funding/ (funding info, and a little history) 
https://digital.library.in.gov/Record/IUPUI_ILWDPeat-247 (Indiana Memory Smith-Houston house) (not a lot of historical info)
https://npgallery.nps.gov/GetAsset/83153bfe-7946-4e09-9435-4fcae84ebdb8 (Written history on several pages of the home, and nomination for national historical register) 
https://books.google.com/books?id=2r22OGS6yeAC&pg=PA460&lpg=PA460&dq=Elmhurst+Lodge,+Connersville,+Indiana&source=bl&ots=gTHEmktfEC&sig=2fD0KNRtrmImnDr5b_piGNrzzx4&hl=en&sa=X&ved=2ahUKEwjIjbGTxZzdAhURW60KHSg6AeI4ChDoATAGegQIBBAB#v=onepage&q=Elmhurst%20Lodge%2C%20Connersville%2C%20Indiana&f=false  (scroll down and look for yellow highlights of Elmhurst) 
Elmhurst (only picture of Elmhurst marker)- found at entrance of Elmhurst
WikiVisually.com (my name and grandfathers name is listed in the section that says Caleb B. Smith) (you may have already seen) 
https://secure.in.gov/apps/dnr/shaard/r/54d76/N/Elmhurst_001.jpg (pictures of Elmhurst by Shaard)  https://secure.in.gov/apps/dnr/shaard/structural_surveys.html?_flowExecutionKey=_c57888BCC-4BE6-E6D6-20E6-EA215A789B16_kD547D6CF-942F-CB5F-E6B0-B76124296F90 (register as guest, and check box of historic register) don't worry about filling in all the boxes and lines. (this is also Shaard) )not much more info to offer. Here is another link, with an older picture of Elmhurst https://npgallery.nps.gov/NRHP/GetAsset/787afaf6-cd6c-497e-9e59-88b4ad6f82a2/
click here https://en.wikipedia.org/wiki/Caleb_Blood_Smith and go down to
search for body, I wrote that on the excavation. I wrote to Wikipedia and told them I have
information on Smith, and they let me write it up. Also on this page if you look at external links, I'm mentioned in there as well.
file:///C:/Users/longe/Downloads/Elmhurst_Fayette_CO_Nom%20(2).pdf  
Title:
Elmhurst
Author:
Whitewater Valley Geological Association (Connersville, Ind.)
Publisher:
[Connersville, Indiana] : Whitewater Valley Geological Association, 2013.
OCLC:
ocn894580953
Physical Description:
32 pages : illustrations, facsimiles ; 28 cm
Publication Date:2013
Caleb Blood Smith' By LOUIS J. BAILEY Ten citizens of Indiana have sat in the Cabinets of our Presidents. Hugh McCulloch was twice called to the Treasury, first by Lincoln and again by Hayes, while Harry S. New served under both Harding and Coolidge as Postmaster General. Mr. McCulloch's term under Lincoln lasted only five weeks, being severed by the untimely death of Lincoln, but he remained, a strong figure, through the Johnson Administration. The first to be invited to a Cabinet post from Indiana was Caleb Blood Smith. He was made Secretary of the Interior by Lincoln in 1861, when Indiana had been a state for forty-five years and Mr. Smith himself had been prominent in the state for thirty years.2 Caleb B. Smith was born in Boston, Massachusetts, April 16, 1808. In 1814, when he was about six years old, his parents moved to Cincinnati, where he grew up and where he was influenced by the associations of his boyhood. Cincinnati at that time was a city of 10,000 inhabitants but was making strides in her claim to be the Queen City of the West. At the age of fifteen, young Caleb entered Cincinnati College. After two years he left to attend Miami University at Oxford, Ohio, which was then becoming known as a leading college in the western country. He was at Miami from 1825 to 1827, when he returned to his home and commenced the study of law. Whether from realizing that the profession was well crowded in the city, or from wishing a new field and a new state, he removed to Connersville in Indiana in the fall of 1827 and applied to Oliver H. Smith for the privilege of reading law in his office. Thirty years later when Oliver H. Smith, who in the meantime had served a term in the United States Senate, was writing his Early Indiana Trials and Sketches, he recalled the advent of Caleb Smith in the following passage: One day I was sitting in my office at Connersville when there entered a small youth, about five feet eight inches high, large head, thin brown hair, light blue eyes, high, capacious forehead, and good features, and introduced himself as Caleb B. Smith, from Cincinnati. He stated his business in a lisping tone He had come to read law with me, if I could 'Thk paper in a longer form was read before the Century Club of Indirma~olfn. *Mr. Smith waa atrongly urged upon General Taylor a8 Pwtmaeter General in 1848, but wa~ not appointed. 214 Indiana Magazine of History receive him. I assented to his wishes, and he remained with me until he was admitted to practice, and commenced his professional, as well aa political career, at Connersville. He rose rapidly at the bar, was remarkably fluent, rapid, and eloquent before the jury, never at a loss for ideas or words to express them; if he had a fault as an advocate, it was that he suffered his nature to press forward his ideas for utterance faster than the minds of the jurors were prepared to receive them; still he was very successful before the Court and jury. . . ? In 1828, at the age of twenty, he had completed his law studies. He then began to practice in the local circuit, which embraced the counties of Fayette, Union, Rush, Henry and Wayne. At that time (Census of 1830) Fayette County was more populous than Marion, the figures being 9,112 to 7,181; the most populous county in the state at that date was Dearborn with Lawrenceburgh as county seat which had a population of 14,573; Jefferson County with Madison was second with 11,465; while Franklin County with Brookville had 10,199. The total population of the state in 1830 was 341,582. The Indiana Gaxeteer of 1833 gives the population of Connersville as 500 and says it comprised seven mercantile stores one drug store, four taverns, had four physicians, four lawyers, and two printing offices, besides mechanics of all kinds. William Dudley Foulke in an account of lawyer's ways of the period says that "the methods of practice in the village [ Centerville] were quite different from those in large cities. Court was in session only a small part of the time. Every morning the bar of the county would assemble at an early hour to make up the issues and attend to matters of practice preliminary to trial. As soon as these were disposed of the trials would begin, and the lawyers not engaged in them would congregate in a room adjoining the court house, or in the office of one of the attorneys across the street, and would there discuss the topics of the day."* The Gazeteer may have connected the lawyers and printing presses because the lawyers were the citizens most intrested in the "topics of the day" and were often connected with starting newspapers. The Fayette Observer was started in 1826, but was purchased in 1830 by Samuel W. Parker, who had been writing editorials for the paper while teaching school and reading law in the office of Oliver H. Smith. Parker brought out a 8 Oliver H. Smith, Early Zndiana Trials and Sketches (Cincinnati, WE), 408. 4 Foulke, "Charles H. Burchenal" in The Indianian, V, 558. Bailey : Caleb Blood Smith 215 new paper on May 22,1830, called the Political Clarion which was in every sense a party organ, carrying at its head a lengthy motto from Alexander Hamilton and giving hearty and unwavering support to Henry Clay. The Clarion lasted just two years and was succeeded by the Indiana Sentinel, the first number of which appeared on June 2, 1832, being edited and published by Caleb B. Smith and Matthew R. Hull. Hull, like Smith, was a man of ability and the result was a spirited paper, Whig to the core, as may be seen from the following sample editorial published in the fall of 1832 when Henry Clay was opposing Jackson's election to a second term. In our prospectus we pledged ourselves to support a system of Internal Improvements, and to advocate the re-chartering of the United States Bank. We believed then as we do now, that those are measures of vital importance to this country, and that the interests of the people call in the most emphatic terms for their support. In order to sustain those measures it is necessary to support for the Presidency, such an individual as will be favorable to their adoption. We would not support those measures without opposing for the Presidency an individual who might be opposed to them. It is for this reason that we have deemed it our duty to oppose the re-election of Gen. Jackson. . . . In the event of his re-election that system of internal improvements from which we have heretofore derived the most incalculable benefits. must be destroyed. The United States Bank must be prostrated, $30,000,000 must be withdrawn from the circulation of the western country, the farmer's pork, his beef, corn, whisky, plow-horses, cattle, and in fact every article produced in the West must depreciate in value at least 25 per cent, and the sources of our wealth and national prosperity must be dried up. . . . His attempt to destroy the Bank of the United States must if it succeeds destroy our commerce, produce universal depression in all our markets, and render the poor and industrious part of the community a prey to the extortions of usurers and sharpers. His utter contempt of the Supreme Court of the United States, his disregard of its decisions and his declarations that he is entirely independent of its authority, manifest a disposition to assume arbitrary and unlimited power, and would eventually, if contenanced by the people, destroy that invaluable institution, which may be regarded as the key-stone of the arch of our liberties. . . . It is then against such doctrines and measures as these, and many others supported by Gen. Jackson, that we contend.6 Smith severed his connection with the Sentinel in May, 1833, and the paper was published for several years by Mr. Hull alone. Shortly before Smith took leave of the paper, Indiana Sentinel (Connersville), Oct. 13, 1832. In 1832 Clay was the candidate of the National Republiaan party. The Whi@ party was born in 1834. 216 Indiana Magazine of History there appeared a little editorial entitled "Our home", which shows conditions in Connersville at the beginning of that decade. This place is truly in a flourishing condition. The citizens are quite as industrious as any others in the great West; and complete marks of their persevering habits are displayed on every street. New houses are in successive building; and the hum and buzz of business is made to resound in the distant valley, and to the approaching traveler bespeaks the industry of mechanics. Our merchants are receiving daily thousands of dollars worth of goods. The spring sales progress with much vigor, which makes the active salesman skip the counter with a business like spirit. Our physicians (poor fellows) have but little to do; they droop their heads beneath the influence of general health. Our streets present a lively picture of enterprise and industry. While other presses are falling out with their subscribers, and placing their names on the black list, the Slentinel still holds an undiminished patronage, and its conductors continue, daily, to place good names on their white list. All this prosperity we owe, in a great measure, to the farmers of Indiana-"the staff of life." But a few years of such prosperity, and Connersville will become the most flourishing village in the Western country.6 An interest in "topics of the day" led most of the lawyers into the field of politics whether or not journalism was included. In 1831, though only a four-year resident of the county, Smith offered himself as a candidate for the state legislature but was defeated. Perhaps in 1833 his newspaper connection made him more effective, for in that year, he was elected to the House for the first time. He was re-elected in 1834, as he was again in 1835 and in 1836. In 1837 and 1838 he was Fund Commissioner, but was elected to the House for the fifth time in 1839. During these years the internal improvements question was not only the leading but almost the only question that agitated the people of the state. The Whig party was generally made up of the more conservative, influential and prosperous class and took the lead in seeking improvements. The great need was access to markets for the products of the farms and easier and cheaper importation of the necessaries not 1ocalb' produced. Farmers were gathering large crops of food SuPPlies, but there was no way to -get them to markets where satisfactory prices could be obtained. Hogs and cattle had to be driven on foot to the Ohio river. Corn was sold at ten and fifteen cents sHhby of Fayette Coumttl (1885). 143. Bailey: Caleb Blood Smith 217 in the interior, but was worth forty cents on the Ohio river, and sixty cents on the Atlantic coast. The flatboat trade to New Orleans had helped somewhat in the Southern counties, but the central and northern section was still inaccessible. The National Road from the East had been surveyed through Indiana and was slowly being finished across Ohio. The Michigan road to South Bend and Michigan City connecting into Chicago was started in 1830 but made slow progress. The Erie Canal in New York had been completed to Buffalo in 1825 and now the state of Ohio was advocating canals and had started some. To connect with Lake Erie and the eastern markets a canal from Ft. Wayne to Toledo had been projected. With the help of the Federal government, which set aside alternate sections of land on each side of the canal route to be sold for the building of the canal, and of the state of Ohio in building the connection from Toledo in that state, canal boats were actually running west of Ft. Wayne on the Wabash and Erie Canal in 1832. Railroads had also begun to make their appearance in the East and complicated the situation as they had their friends who looked upon the building of railroads in the West as the best solution of transportation problems. The Baltimore and Ohio railroad was organized in the east in 1827 and construction started in 1828. Western states were becoming more and more interested in the possibilities of building railroad lines. Mr. Smith was an earnest advocate of internal improvements and a staunch supporter of Governor Noah Noble, who urged and directed the movement. One of the first difficulties the advocates had to contend against was the doubt and uncertainty as to whether the character of the land did not render it impossible to construct works of transportation at all, or at only a ruinous expense. The Legislature of 1835 accordingly passed what was known as the Survey Law, which provided appropriations for the survey and determination of the cost on a number of different projects-highways, canals, and railroads. After the bill had been passed and signed, it was discovered that there was not an engineer in the state capable and available that could make the survey. Governor Noble decided to send to the War Department at Washington and ask for a detail of engineer's from the department to carry out the surveys. He asked Caleb Smith to act as 218 Indiana Magazine of History the special envoy for that purpose. In connection with this, M. L. Bundy, of Newcastle, tells the following story which he got from Smith: On reaching Washington he [Smith] called on General Cass, who was then the war secretary, and made his business known, but was promptly informed by the secretary that it could not be done. He then called on General Tipton, as one of our Senators, and stated his mission and what the Secretary had said. Tipton said, "MI. Smith, come here tomorrow morning and I will go with you to the war office.'' At the appointed time they called, found Cass at his desk, and Tipton opened the conversation by renewing the request for engineers, but the secretary shook his head and declared he could not do it. Tipton then got up and went toward Cass and as he did so uttered these words, "General Cass, I tell you by - it must be done." The secretary studied a moment, then rang his bell for the chief clerk and the detail was at once made out. Smith used to tell the story to illustrate what forcible lanpage and earnestness would accomplish, as well as the kind of man Tipton was.7 Whether this account is accurate or not, Col. Howard Stansbury with several engineers from the Department of War were obtained, made their surveys and the Governor submitted their reports to the next session of the Legislature in Cabel B. Smith was elected to the lower house for the third time in 1835, and had the unusual distinction (for that period at least) of being elected Speaker of the house on the first ballot. The passage of the great internal improvements measure, known as the "Mammoth Bill", was the, main business of the Assembly during the session of 1835-1836. It took considerable jockeying and compromising to satisfy the various interests of the state and convince enough people in each section that they were not being neglected. Under the bill that was passed, a system of public works was to be undertaken, the cost of which was to be met by extensive sales of state bonds. Work on various roads and canals, including a railroad from Madison to Indianapolis, was to be taken up and the construction of all the works carried on simultaneously. The great crash, financial and economic, that followed in 1837, the effects of which lasted for six years, caught the state with many commitments. It was impossible to meet even the interest on outstanding bonds from incoming taxes for several years. The internal improvement policy was at first intrusted to a Board of Internal Improvements, which was later replaced by 1835-1836. 'M. L. Bundy, "lion. Csleb B. Smith," in The Indianian, V, 281. Bailey: Caleb Blood Smith 219 a group of three Fund Commissioners. Speaker of the house when the "Mammoth Bill" was passed, Smith later became one of the Fund Commissioners. These Commissioners were compelled to handle a difficult task-one in which anything that could be accomplished was likely to be very unsatisfactory to the people. The debt of the state mounted rapidly though most of the public works had to be abandoned. When Smith resigned his office as Fund Commissioner in 1839, the best that could be said of him was that "he persevered in his efforts . . . in spite of denunciation and slander, for there was not an element of the coward in his composition, and , . completed as far as possible what he had undertaken."8 In 1836, Mr. Smith was reelected to his seat in the house of representatives. Again he was chosen Speaker, this time by a large majority. Early in the session of 1836-1837, the Legislature elected Oliver H. Smith to the United States Senate. The new Whig party controlled the General Assembly but the Whig members could not unite on a candidate. Several ballots were necessary to a choice, the voting taking place on December 8, 1836. On the first seven ballots Governor Noah Noble led, but at the climax of his strength (fifth ballot) lacked nine of obtaining a majority. Most of the remaining members voted either for Oliver H. Smith or William Hendricks,e the latter a candidate to succeed himself. Unable to elect Senator Hendricks, his supporters largely turned to Smith who was elected on the ninth ballot.1° Caleb B. Smith presided over the joint session of the two houses, during the fight which resulted in a victory for his earliest Indiana friend and legal preceptor, Oliver H. Smith. In 1839 Caleb B. Smith was elected for the fifth time to the Indiana house of representatives. During the session which followed he was made chairman of the Committee on Canals. By this time the presidential contest was claiming much of his attention. He was nominated as an elector on the Harrison ticket in 1840, and contributed powerfully to the success of the Whigs in the great "hard cider and log cabin" campaign. Harrison carried the state over Van Buren by a vote of 65,276 to 51,695. *Indianagolla Journal (daily), Jan. 9, 1864. 9William Hendricka was Governor of Indiana from 1822 to 1826, when he resigned to become United States Senator, serving two terms. He had been a member of the national House from Indiana before he became Governor. lo Home Journal (Indiana), 1836-7, SB-89. 220 Indiana Magazine of History The contest of 1840 left Mr. Smith with a growing interest in national politics. His speeches throughout Indiana gave him a command of a new field and gained him wider recognition. In 1841 he ran for Congress but was defeated because of an embarrassment of riches in Whig candidates. Jonathan McCarty forced himself into the contest in the fourth district and against two Whig candidates Andrew Kennedy, the Democratic candidate, won handsomely. As Kennedy afterwards remarked, "he could have beaten half a dozen just as easily". In 1843, however, Smith had a clear field in his district (which had been modified since 1841) and was elected.ll Only one other Whig was elected to the national House from Indiana in that year. The Democrats were coming into power again but in 1845 Mr. Smith was elected and again was one of the two Whigs in the Indiana delegation. Mr. Smith defeated John Finley, 4,863 votes to 3,201, while his old newspaper partner, M. R. Hull, ran as a Liberty Party candidate with 553 votes. In 1847 Mr. Smith defeated Charles H. Test by a majority of 1,368, and was accompanied to Washington by three other Whigs in a delegation of ten. Mr. Smith refused to be a cnndidate in 1849. Present in Congress during Mr. Smith's last term was a certain Whig, the only one from Illinois, Abraham Lincoln, and they are said to have been very good friends. Tyler and Polk were Presidents during Mr. Smith's three terms in Congress, Polk carrying the election of 1844 against the idol of the Whigs, Henry Clay. The foremost questions of the day were the Annexation of Texas, the Mexican War, territorial questions that grew out of the War, and the Oregon question. During his second term, Mr. Smith was a minority member of the Committee on Foreign Affairs, and during the last term chairman of the Committee on Territories. These were at the time the most important committees of the House. The first dealt with the Texas and Mexican situations in addition to other matters. In regard to territorial questions, Mr. Smith became prominent for his attitude on the problems relating to Oregon, California, and New Mexico, which involved and developed the beginning of the political cleavage on slavery. Mr. Smith brought in and defended the bills for the orl1 Andrew Kennedv lived in Delaware Countv which was in the large fifth district until after the election of 1841. Three new Repiesentatives were allotted to Indiana as a result of the census of 1840. Then Delaware was placed in one of the new districts (tenth) and Fayette (the home of Caleb B. Smith) became a part of the fourth district. Bailey: Caleb Blood Smith 22 1 ganization of California and New Mexico with the slavery restriction of the Ordinance of 1787 in them. Exciting debates continued for days and they were finally passed in the House by a strict party vote, but were left to sleep quietly in the Senate committee, the session ending with nothing agreed to. The Congressional Globe contains many references to Mr. Smith's speeches and activities in the House. He is always found representing the Whig attitude on public questions, except possibly on the land question, in which connection he was heart and soul for extending help to the newer western states. One of his most revealing speeches was made in defense of a liberal land policy in the new state of Wisconsin. From the experiences of Indiana, Smith had learned that the eastern states had to be educated to the importance of new western states. He argued that a liberal policy towards new states was of value to the entire country. By extending settlements in the west, markets would be developed for the products of New England. Jacob Collamer of Vermont asserted, in answer to a question from Smith, that the public lands sold in the West were largely paid for by people who migrated there from the East. Smith declared that such was not the case, contending that more than three fourths of the entire receipts from the public lands were paid by bona fide settlers in the new states who had been there for years. Many new arrivals came without money and had to earn some in the West before they could buy. The money paid to the government land offices by Westerners was prone to flow eastward, there to be expended for internal improvements.12 A speech which noticed local conditions in Indiana was made on July 6, 1848, when introducing a bill to surrender to the State of Indiana that portion of the Cumberland Road lying within the state. In explanation, Mr. Smith described the condition of the road at the moment: It had been opened and partially graded through a great part of the state; but it had now been ten years since any appropriation had been made towards its completion, and it was falling rapidly into a state of dilapidation. He knew personally of three bridges upon it which had fallen down for want of repair; and unless something was done in the course of three more years the whole road would be impassable. It was 1' Cong. Globe, 30 Cong., 1 Sew, 751-762. May 9, 1848. 222 Indiana Magazine of History now, in winter time, the worst road in the state. The people of the state had waited long in hope of aid from the General Government, but they had now abandoned all hope for aid from that quarter. A bill was passed in August by which the road was relinquished to the states traversed by it. Mr. Smith believed in a protective tariff and condemned the Walker Tariff of 1846. He was a friend of internal improvements and attacked Polk's vetoes of such measures. He opposed the annexation of Texas and the Mexican War. He held that the War grew out of the policy of annexing Texas, and was proud that Whig leaders had given warning of the danger. The cry that Whigs were unpatriotic in their criticism of the war policy, Smith answered by the declaration that "the highest, the purest patriotism was evinced in keeping our country in the right". A patriot could not wait till after the close of hostilities to voice his opposition, but must do it at once. He could not hold his peace when he "saw his country hurried on in a career of ruin by those who held the helm of State". He must not "forbear to raise his warning voice, while warning might yet avail, and point them to a dif= ferent course".18 Speaking in regard to the origin of the War a year later, Smith again restated the earlier arguments of Whigs, his position being in harmony with that of his Whig friend, Lincoln of Illinois : I have to say that this House has decided, during the present session, upon a solemn and deliberate vote by yeas and nays, that the war with the Republic of Mexico, in which we are now engaged, was "Unnecessarily and unconstitutionally commelzced by the President of the United States." I had the good fortune-and I deem it extreme good fortunto have the opportunity of recording my vote in favor of this sentence of condemnation. In giving that vote, my heart concurred with my judgment; and I desire to say no more at this time, in regard to the origin of the war, than to express my concurrence with the decision so solemnly made by this House. It is a decision which, in my deliberate judgment, the country will sustain and approve. Whatever may be the opinions of individuals who, influenced by partisan feelings, may be disposed to justify all that the President has done or may do, when party excitement shall have been dissipated by time, and the impartial pen of historysshall have recorded the facts, the matured judgment of the American people will sanction that vote of condemnation.14 la Ibid., 122-123. Jan. 8, 1847. 141bid., Appendix, 821, Feb. 3, 1848. Bailey: Caleb Bbod Smith 223 The remainder of the speech is a very cogent though partisan attack upon the requests and estimates of the President and Secretary of the Treasury for the conduct of the war. Needless to say, the verdict of history has been a little more lenient with the President than were the Whigs in the forties. An enthusiastic ,commentator gives to Smith a high place in the House: "In these three terms Cin the House], he [Mr. Smith] made himself the foremost man of the Indiana delegation, and at the close was not only the most prominent man in national .affairs from this State, but the most prominent man who had ever represented it." This estimate was, to a large extent a true one, as Smith was placed in a position to be one of the first to set forth the conservative northern opposition to the extension of slavery into new territories. In spite of his success, Smith seems to have been looking about for something different to do. He positively refused to accept a re-nomination in 1849, and changed his residence to Indianapolis. Hollister's Colfux quotes a letter which says : "Caleb B. Smith wishes Defrees and me to join him and buy the Cincinnati Gazette, making twenty thousand a year."lS Apparently Smith was considering the possibility of retiring to private life, if not rewarded by the new Whig Administration. He had strongly supported General Taylor in 1848 and was urged strenuously by his friends upon the President-elect for the place of Postmaster General in his Cabinetisaid to be the first time an Indiana man had ever been proposed for a cabinet position. He did not receive the post, but was appointed to one hardly less important-a member with George Evans and Robert T. Paine of a board to investigate the claims of American citizens against Mexico. By the treaty of Guadaloupe Hidalgo, signed February 2, 1848, which closed the war with Mexico, three and a quarter million dollars were appropriated to liquidate the claims of American citizens against Mexico. Hearings were held during the next two years at which 292 memorials were presented, of which number 182 were sustained and a total of $3,208,314 awarded, according to the report submitted to Daniel Webster, Secretary of State in 1852. In 1850 Mr. Smith moved from Indianapolis to his boyhood home, Cincinnati, to take up again the practice of law. l6 Ovando James Hollister, Life of Schu&r Colfaa (Chicago, 18871, 44. 224 Indiana Magazine of History Perhaps also he wished to be nearer the center of his new railroad interests. This period was the beginning of the real railroad development that came to the country in the next few decades. His old friends at Connersville, Oliver H. Smith and Samuel W. Parker (also his brother-in-law), had become deeply interested in them. 0. H. Smith was president of the Bellefontaine Line and in 1848 Parker had obtained a charter for the Junction Railroad from the Legislature of Indiana. It was projected to run from Rushville to the state line, near there to make a junction with the Cincinnati, Hamilton and Dayton and thus open a way for the counties of Union, Fayette, Rush, and Shelby into the Cincinnati market. The road is said to have been organized by Caleb Smith in 1850. Esarey has the following to say regarding the road: The meeting at College Corner of the citizens along the route for the purpose of organizing the company was presided over by Dr. E. D. McMaster, president of Miami College; and the father of Gen. A. E. Burnside was secretary. Col. H. C. Moore, later superintendent of the Missouri Pacific, surveyed the route. In 1853 it was decided that if the road ever became valuable it would have to be extended to Indianapolis, so a new company, the Ohio & Indianapolis company, was organized and merged into the Junction company. Thus organized, ground was broken in Union county in January, 1852, and construction pushed vigorously for a few years, but the money on the stock, subscribed as usual in lands and labor, came in slowly. The road reached Connersville in 1860; a branch connected it with the Indiana Central at Cambridge City in 1864; in 1866 it reached Rushville and in 1868 it reached Indianapolis. The work of construction thus extended over a period cf twenty years, a large part of the $5,000,000 capital having been subscribed in Cincinnati. The branch to Cambridge City was extended to Newcastle in 1866 and thence on to Muncie and Fort Wayne, trains reaching these points in 1869. The completion and success of the road was due in a large measure to the work of J. M. Ridenour, its president after 1860.16 Caleb Smith was also president of the Cincinnati and Chicago Railroad for several years, which was later taken into the Big Four system and which was started in Cincinnati. He seems to have devoted his eight years in Cincinnati to his legal and railroad interests, and also to have had no better success in the latter than many others of the period. The story is a familiar one-bad times, inexperience in railway management, unwise location due to local prejudice, too many railroads for The capital stock was $250,000. Logan Esarey, History of Indiana, 11, (Indianapolis, 1918), 726. Bailey: Caleb Biood Smith 225 the field, and unexpected expense in construction-these and other causes brought many a railroad and with it the officers and stockholders to misfortune. Mr. Smith shared a fate not unknown to many others. In 1859 he abandoned his railroad connections and returned to Indianapolis to resume his legal practice, and, if possible, recover his fortune. While the years devoted to railroad business occupied most of his time, politics was not entirely forgotten. He was one of the electors on the Fr6mont ticket in Ohio in 1856, thus show. ing that he went with the great majority of northern Whigs into the new Republican party. Again in Indiana, Mr. Smith was immediately taken into the party deliberations. The city council elected him as a trustee on the city school board. The national situation under Buchanan aroused the fear and determination of those opposed to slavery extension. The Republican party inherited from the old Whigs a knowledge gained by long practice in party manipulation and political strategy. Division in the Democratic party seemed to make possible a successful campaign for control of the federal government and correspondingly increased the acuteness of the situation and the keenness of the participants. The Indiana State Republican convention met at IndianapoIis in Metropolitan Hall on February 22, 1860. Oliver P. Morton laid claim to the governorship nomination as having been the successful candidate in 1856. Morton had come from the Democrats but the old line Whigs preferred one of themselves and so chose Henry S. Lane for governor and put Morton on as a candidate for Lieutenant Governor with an understanding that if the party were victorious, Lane would go to the United States Senate and Morton become governor, which, to anticipate, is what happened. Four delegates-at-large to the National Convention were elected: William T. Otto, of New Albany, P. A. Hackleman, of Rushville, Daniel D. Pratt, of Logansport, and Caleb B. Smith, of Indianapolis. Two delegates from each of the eleven districts gave Indiana a total of twenty-six votes to be cast in the convention. The State Central Committee had tried to secure the convention for Indianapolis, but Chicago (112,000 population) had been finally chosen from among eleven aspiring cities, and the date set was May 16th, 1860. Indiana at that date held a more commanding position, politically speaking, than it does today. It had thirteen elect- 226 Indiana Magazine of History oral votes, ranking fifth in the whole Union, with the same number as Massachusetts, and being exceeded in the old North. west by only Ohio. The four preceding presidential elections had resulted in giving the electoral vote of the state to the Democratic candidates. It is no wonder, therefore, that Indiana came to be looked upon as one of the "battleground states." John D. Defrees in an editorial in the Daily Atlas published in Indianapolis had written in the previous Novem. ber: "It is conceded that Indiana must be carried next year to render the election of a Republican President beyond a contingency. It may possibly be accomplished without her vote, but with it success may be regarded as certain." Lincoln recognized this after his nomination. "We might succeed in the general results without Indiana," he wrote Caleb Smith, "but with it failure is scarcely possible."17 It was with such a background and knowledge that the Indiana delegation appeared in Chicago. William H. Seward of New York was undoubtedly the out. standing candidate and few thought he could be stopped from walking off with the nomination. He was opposed mostly by favorite son candidates, Lincoln from Illinois, Bates from Missouri, Dayton of New Jersey, Cameron of Pennsylvania, and Chase and McLean of Ohio. Indiana had no favorite son and so was open to free consideration of the candidates offered. The delegation was largely divided on Bates and Lincoln, but was pretty thoroughly opposed to Seward, feeling that he could not possibly carry the state if nominated. Murat Halstead sent descriptions of the scenes at Chicago to his Cincinnati paper that are the best accounts of the convention we have. He wrote: The Pennsylvanians declare, if Seward were nominated, they would be immediately ruined. They could do nothing. The majority against them would be counted by tens of thousands. New Jerseyites say the same thing. They look heartbroken at the suggestion that Seward has the inside track, and throw up their hands in despair. They say Lane will be beaten, the Legislature pass entirely into the hands of the Democracy, and the two Re publican Senators hoped for be heard of no more.18 The Indianians are of the same opinion. IT Lincoln to Colfax, quoted by Charles Roll, in "Indiana's Part in the Nomination 1s Murat Halstead, National Political Conventions of 1860, 132. of Abraham Lincoln for President in 1860" (Indiana Magazine of History, XXV, 18). Bailey : Caleb Bbood Smith 227 of the situation on Thursday before the nomination of There were hundreds of Pennsylvanians, Indianians, and Illinoisians, who never closed their eyes that night. I saw Henry S. Lane at one o'clock, pale and haggard, with cane under his arm, walking as if for a wager, from one caucus room to another, at the Tremont House. He had been toiling with desperation to bring the Indiana delegation to go as a unit for Lincoln. And then, in conjunction with others, he had been operating to bring the Vermonters and Virginians to the point of deserting Seward: . . . The object was to bring the delegates of those States to consider success rather than Seward, and join with the battle-ground States-as Pennsylvania, New Jersey, Indiana, and Illinois insisted upon calling themselves.1~ Friday, Halstead says : Again Halstead writes : It was reported; and with a well-understood purpose, that the Republican candidates for Governor in Indiana, Illinois, and Pennsylvania would resign if Seward were nominated. Whether they really meant it or not, the rumor was well circulated, and the effect produced was as if they had been earnest. Henry S. Lane, candidate in Indiana, did say something of the kind. He asserted hundreds of times that the nomination of Seward would be death to him, and that he might in that case just as well give up the canvass. He did not feel like expending his time and money in carrying on a hopeless campaign, and would be disposed to abandon the contest.20 Caleb B. Smith was elected chairman of the Indiana delegation. Preliminaries took up time until Friday morning when nominations were reached. It is not necessary to follow the details of the nominations and voting. After the five leading candidates were placed in nomination and Indiana was called on, Mr. Smith claimed the floor and announced: "I desire on behalf of the delegation from Indiana to second the nomination of Abraham Lincoln, of Illinois," and according to the record sat down amid "tremendous applause." This announcement indicated not only the position of Indiana, but the probable trend of the voting toward Lincoln. Three ballotings were necessary, in which Lincoln overtook and passed the Sage of Auburn. Late in the afternoon the nominations for Vice President were reached. For Indiana Mr. Smith arose and announced : "I present the name of the gallant son of Kentucky, Cassius M. Clay." Clay was supported particularly because he was lo Ibid., 142. * Ibid., 148. 228 Indiana Magazine of History considered to be friendly and welcome to the Seward men. Hannibal Hamlin, of Maine, however, was made the running mate on the second ballot though Clay was the runner-up. It was the custom at that time to make nominations in one sentence, or at least very briefly, and then to take time for speech making after the candidates were named. The Chicago Tribune records that Caleb B. Smith was called on to address the convention shortly after the nominations were made, and surely pleased the Hoosiers present when he related how "Thirty years ago on the Southern frontier of Indiana might have been seen a humble, ragged boy, barefooted, driving his oxen through the hills." He explained the efforts of the Indiana delegation in behalf of the former resident of Indiana saying: "It is not that we loved Seward less but because we loved the great Republican cause more . . . . I assure you that the Republican flag will wave in triumph upon the soil of Indiana."21 Lane was called for but was so exhausted that he could only promise Indiana for Lincoln by 10,000 majority. The Indiana delegation had played a leading part in the nomination and went back home to elect Lincoln. Caleb Smith Fas included as a member of the notification committee that w-ent down to Springfield the next day to express to Lincoln their confidence in him and hope for his election. The campaign in popular enthusiasm and intensive activity recalled that of old Tippecanoe twenty years before. Indiana was covered by speakers of all parties, for the Democratic host had split three ways. Lane, Smith, Hackleman, Morton, Will Cumback, Benjamin Harrison, Cassius M. Clay of Kentucky, and Carl Schurz of Wisconsin appeared in all parts of the state for the Republican cause. Indiana was then an October state and the state election was held on October 8. Lane and Morton won by the promised 10,000 over Hendricks and Turpie, and just a month later, on November 8, Lincoln received a majority of 6,000 over his combined opponents. Thereafter a most interesting situation arose as to the makeup of Lincoln's Cabinet. The Republican party had drawn into its ranks both radical and conservative elements, astute politicians of the old school and anti-slavery adherents of different degrees of intensity. George W. Julian of Indianapolis, "Chicago Tribune, May 19. 1860, quoted by Roll in Indiana Magazine of History xxv, 10. Bailey: Caleb Blood Smith 229 who was of the radical tendency, and who had come from the Free Soil camp, related in a reminiscent statement relative to President-elect Lincoln : The rumor was current and generally credited that Simon Cameron and Caleb B. Smith were to be made Cabinet ministers, and I desired to enter my protest against such a movement. Mr. Lincoln heard ine pntiently, but made no committal; and the subsequent selection of those representatives of Pennsylvania and Indiana Republicanism, along with Seward and Chase, illustrated the natural tendency of his mind to mediate between opposing forces.22 That there were others from Indiana who desired a seat in Lincoln's Cabinet is brought out very forcibly by Hollister in his Life of Schuyler Colfax, the editor at South Bend of the St. Joseph Register: An unusually strong and widespread demonstration had been made in favor of Mr. Colfax for the place of Postmaster General. He was commended by the Legislatures and Governors of nearly every Northern and Border State; by many Congressional delegations and Presidential Electors; unanimously by the publishers of the great Eastern cities; and very generally by the press. Mr. Lincoln called the Hon. Caleb B. Smith, also of Indiana, into his Cabinet instead of Colfax. Mr. Smith was an old Whig, who had been strongly supported for Postmaster General twelve years previously when President Taylor was inaugurated. Failing to receive the appointment, he had gone out of politics and out of the State, and was now but recently returned. He and Lincoln had been intimate during their service in the twenty-ninth Congress. He was at the Chicago Convention, seconded Lincoln's nomination, and used his influence to bring Indiana to the support of Lincoln. On the other hand, Colfax had supported Bates against Lincoln, and his friend Greeley had helped to defeat Lincoln for the Illinois Senatorship in 1858. The Republicans had carried the Legislature of Indiana, and the State had a seat in the United States Senate to bestow at that time, for which Caleb B. Smith and Henry S. Lane, the Governor-elect, were candidates. If Smith went into the Cabinet, Lane would get the Senatorship, and Lieutenant-Governor-elect Morton would be Governor. All of these men, inclusive of Smith, were warm friends of Colfax, but their own advancement was paramount; and so Smith had strong support from Colfax's own State, Mr. Lincoln subsequently wrote Colfax, as follows: "I had partly made up my mind in favor of Mr, Smith, not conclusively of course, before your name was mentioned in that connection. When you were brought forward, I said: "Colfax is a young man, is already in position, is running a brilliant career, and is sure of a bright future in any event. With Smith it is now or never. I considered either abundantly competent, and decided on the ground I have stated."23 81 George W. Julisn, in Reminiscences of Abraham Limoln, edited by Allen Thorndike Rice, 48-49. Hollister, Goifus, 174-176. 230 Indiana Magazine of History In later years a charge more specific was made against Lincoln as well as Smith and Lincoln's managers at Chicago. Mrs. Gresham in her life of Walter Q. Gresham, reported an important statement of Judge William T. Otto: I have frequently heard Judge Otto tell how Caleb B. Smith imposed on Judge David Davis and Joseph Medill when the latter during the convention was pledging everything in sight to insure Mr. Lincoln's nomination. "Mr. Smith," Judge Otto said, "made Judge Davis believe that the Indiana delegation would go to Seward unless Smith was promised a place in the Cabinet; when the truth was that none of us cared for Smith and after we got to Chicago and looked over the ground all were for Lincoln." That the pledge was made I have heard from Judge Davis's own lips. That it was kept, everybody knows, for Caleb B. Smith became the first Secretary of the Interior in Mr. Lincoln's Cabinet9 From another source came a similar charge. Charles Gibson of Missouri, one of the leading Bates supporters, states in a reminiscent article published in 1900 : We had nearly all Indiana and a large portion of the Pennsylvania delegation. Davis, Swett, and others aoting for Mr. Lincoln bought our votes in those states by agreeing to give Simon Cameron and Caleb B. Smith Cabinet positions. Thurlow Weed controlled Seward's votes absolutely, and had agreed with me that if Seward was not nominated that morning he would combine on Bates and nominate him. But for votes purchased from Bates, Lincoln could not have been nominated.26 Herndon, in his Life of Lincdn, adds more detail to the picture : The day before the nomination the editor of the Springfield Journal arrived in Chicago with a copy of the Missouri Demoorat, in which Lincoln had marked three passages referring to Seward's position on the slavery question. On the margin of the paper he had written in pencil, "I agree with Seward in his 'Irrepressible Conflict,' but I do not endorse his 'Higher Law' doctrine." Then he added in words underscored, "Make no contracts that will bind me." This paper was brought into the room where Davis, Judd, Logan, and I were gathered, and was read to us. But Lincoln was down in Springfield, some distance away from Chicago, and could therefore not appreciate the gravity of the situation; at least so Davis argued, and viewing it in that light, the lab ter went ahead with his negotiations.26 Later when discussing visitors who came to Springfield to visit in the period after Lincoln's election, Herndon says: Matilda Gresham, Life of Walter Q. CSraeiWm (Chicago, 1919). I, 110-111. a~ Charles Gibson, "Edward Bates," in Missouri Historical Society Collections (1900), an William Hernda and Jesse Weik, Abraham Lincoln, 11. 1721. II, 66. Bailey : Caleb Blood Smith 231 He had a way of pretending to assure his visitor that in the choice of his advisers he was 'free to act as his judgment dictated,' although David Davis, acting as his manager at the Chicago convention, had negotiated with the Indiana and Pennsylvania delegations, and assigned places in the Cabinet to Simon Cameron and Caleb Smith, besides making other 'arrangements' which Mr. Lincoln was expected to ratify.27 There is much to be said on the other side, however, for Lincoln did not select his Cabinet without plenty of advice from all sides. He was in a difficult situation, for he was obliged to build up from very diverse elements a working party to support his administration in the face of certain stubborn and menacing attacks in Congress. Jesse Weik, however, in his "Real Lincoln" shows that Lincoln had a thorough appreciation of the services of his old colleague in Congress. Re writes : I knew and often talked with Augustus H. Chapman, whose wife was a daughter of Dennis Hanks, and who was Lincoln's companion when he drove from Charleston to see his stepmother. "During the ride," related Colonel Chapman, "Mr. Lincoln became more or less reminiscent, adverting frequently to family affairs. He spoke in the most affectionate way of his stepmother, characterizing her as the best friend he ever had. . . . He also spoke of the campaign of 1860 and the loyal support of the Union men, dwelling especially on the eloquence and ability of Caleb B. Smith, of Indiana, who had, in his opinion, rendered him more effective service than any other public speaker."2* On the basis of his examination of the sources available to him, Rhodes wrote : Lincoln listened to all objections and all protests; he gave heed to all arguments, and though at times he hesitated, and was on the point of changing his mind in regard to some of the appointments, the names he finally sent to the Senate made up the Cabinet substantially as he had framed it in his mind the night of his election.20 Albert Shaw in his Cartoon History of Lincoln summed up the situation in a way most acceptable today. He says : There is no evidence that Lincoln had sanctioned the use of improper methods, although political life in 1860 was not free from the taint of bribery and corruption. Whether or not appointments to the Cabinet, and to other lucrative and coveted offices, were due to pledges made at the critical moment of the convention by Mr. Judd and the Lincoln manZbid., 11, 181. Jesse Weik, Th Real Lincoln, 298-294. *James Ford Rhcdes, Hietory of the United States from the Compromise of 1850, rn, 820. 232 Indiana Magazine of History agers, there is no reason to think that Lincoln had authorized the use of such means. Doubtless there is some evidence that the Pennsylvania delegation was assured that Mr. Cameron would be considered for a high position, and the same thing may have been true of Caleb Smith of Indiana, and one or two others. There was no lack of adroit management, but it would be overstraining minor details to assert that Lincoln's nomination had been brought about by deliberate bargaining. The gradual development of his strength as a political leader in Illinois sufficiently accounts for his nomination, when the tide had turned against Seward.30 As Lincoln showed in his treatment of Cameron, whom he was very hesitant in appointing, the Cabinet positions were offered for reasons of merit rather than in conformity with any manager's bargains. Before taking up his duties in the Cabinet as Secretary of the Interior and before the inauguration of Lincoln, Caleb Smith was appointed a member of the Peace Conference at Washington. Delegates from Indiana were appointed by Governor Morton following resolutions passed by the Legislature, which, however, required them to report any resolutions of the Peace Conference back to the Legislature before voting on them finally. Consequently, Indiana's delegates declined to vote upon the final resolutions. The Peace Conference was initiated by the Legislature of Virginia to agree upon amendments to the Constitution to prevent the breaking up of the Union. The Amendments so adopted were referred to Congress, which refused to submit them to the states. Smith apparently took no part in the discussions, but was a member of the Committee on Credentials and is said to have opposed all compromises or concessions to the South. William Robinson Ellis says of the Peace Conference: A Peace Congress having been proposed by Virginia, I was appointed by Governor 0. P. Morton a delegate from Indiana, in conjunction with Caleb B. Smith, P. A. Hackleman, Godlove S. Orth, and C. L. Slaughter. . . . My roommate at the Avenue House was Mr. Smith, afterward Secretary of the Interior. Our Congress met in a hall adjoining the Willard Hotel, in Washington, was presided over by Ex-President John Tyler, and for a month was the scene of most earnest and angry discussion. The principal good anticipated from it on the part of the North, and all that it accomplished, was to postpone the commencement of hostilities until after the inauguration of President Lincoln.31 Albert Shaw, Abraham Lincoln, A Cartoon History, 11, 67. *I William Robinson Ellis, "Autobiography of a pioneer," in Zndiana Magazine of History, X, 69-70. Bailey: Caleb Bbod Smith 233 The day after his inauguration, Lincoln sent to the Senate his appointments for Cabinet positions : Seward, State Department ; Chase, Treasury Department ; Bates, Attorney-General ; Blair, Postmaster-General ; Cameron, War Department ; Welles, Navy Department, and Smith, Interior Department. They were promptly confirmed. The Department of the Interior was the latest organized department, having been established only twelve years before in 1849 during Smith's last year in Congress. In it were placed several offices that related to purely domestic affairs. These were the General Land Office, Bureau of Indian Affairs, Patent Office, Pension Office, Census Bureau, and the Bureau of Mines. Concerning Mr. Smith's conduct of his department there are no accounts extant, so that it is to be presumed that it was entirely competent and satisfactory or there would have been plenty of criticism in hostile newspapers. As to general affairs, it has been said that Smith was one of those who recommended the evacuation of Fort Sumter and that he later signed Chase's remonstrance against the restoring of McClellan to his command. He was also said to have opposed the signing of the Proclamation of Emancipation. The best information as to that comes from Frank B. Carpenter, who painted the Cabinet group picture and became quite friendly with the President. In his Six Months at the White House he says: The final Proclamation was signed on New Year's Day, 1863. . . , I remember to have asked him, on one occasion, if there was not some opposition manifested on the part of several members of the Cabinet to this policy. He replied, "Nothing more than I have stated to you. Mr. Blair thought we should lose the fall elections, and opposed it on that ground only." "I have understood," said I, "that Secretary Smith waa not in favor of your action. Mr. Blair told me that, when the meeting closed, he and the Secretary of the Interior went away together, and that the latter said to him, if the President carried out that policy, he might count on losing Zndiuna, sure!" "He never said anything of the kind to me," returned the President. "And what is Mr. Blair's opinion now?" I asked. "Oh," was the prompt reply, "he proved right in regard to the fall elections, but he is satisfied that we have since gained more than we lost." "I have been told," I added, "that Judge Bates doubted the constitutionality of the proclamation." "He never expressed such an opinion in my hearing," replied Mr. Lincoln. "NO member of the Cabinet ever dissented from the policy in any conversation with me."82 81hk B. Carpenter, Ianw Life of Abraham Lincda, Siz +muntL at the White Hw~. 87-88. 234 Indiana Magazine of History The diary kept by Gideon Welles, Secretary of the Navy Department, is a source for information about the relations and opinions of Lincoln's Cabinet members. Welles mentions Smith a number of times, generally showing that he leaned toward the Chase-Stanton side of the Cabinet, and in one place says : "Smith imputes misfortune and mismanagement Under date of September 16, 1862, Welles records : At the Executive Mansion, the Secretary of State informed us there was to be no Cabinet meeting. He was authorized by the President to communicate the fact. Smith said it would be as well, perhaps, to postpone the Cabinet meetings altogether and indefinitely,-there seemed to be no use latterly for our coming together. Others expressed corresponding opinions. Seward turned off, a little annoyed. An unfavorable impression is getting abroad in regard to the President and the Administration, not without reason, perhaps, which prompted Smith and others to express their minds freely. There is really very little of a government here at this time, so far as most of the Cabinet are concerned; certainly but little consultation in this important period. Seward, when in Washington, spends more or less of each day with the President, absorbs his attention, and I fear to an extent influences his action not always wisely. The President has good sense, intelligence, and an excellent heart, but is sadly perplexed and distressed by events. He, to an extent, distrusts his own administrative ability and experience. Seward, instead of strengthening and fortifying him, encourages this self-distrust, but is not backward in giving his own judgment and experience, which are often defective expedients, to guide the Executive. A conviction of this state of things stirred up Smith to make his rernarks.84 On September 26th, 1862, Welles reports at greater length an incident in which Mr. Smith figures : At several meetings of late the subject of deporting the colored race has been discussed. Indeed for months, almost from the commencement of this administration, it has been at times considered. More than a year ago it was thrust upon me by Thompson and others in connection with the Chiriqui Grant, a claim to title from the Government of Central America of a large part of Costa Rica. Speculators used it as a means of disposing of that grant to our Government, It was a rotten remnant of an intrigue of the last administration. The President, encouraged by Blair and Smith, was disposed to favor it. Blair is honest and disinterested; perhaps Smith is so, yet I have not been favorably impressed with his zeal in behalf of the Chiriqui Association. As early as May, 1861, a great pressure was made upon me to enter into a coal contract with to one (Seward) who has the ear of the President. . . . ,988 mDiarg of Gideon Welles, I, 119. "Ibid.. I, 131. Bailey : Calebl Blood Smith 235 this company. Thd President was earnest in the matter; wished to send negroes out of the country. Smith, with Thompson, urged and stimulated him, and they were as importunate with me as the President. I spent two or three hours on different days looking over the papers,- titles, maps, reports, and evidence,-and came to the conclusion that there was fraud and cheat in the affair. It appeared to be a swindling speculation. Told the President I had no confidence in it and asked to be released from its further consideration. The papers were then referred to Smith to investigate and report. After a month or two he reported strongly in favor of the scheme, and advised that the Navy Department should make an immediate contract for coal before foreign governments got hold of it. Mr. Toucey had investigated it. Commodore Engle had been sent out to examine the country and especially in relation to coal. The President was quite earnest in its favor, but, satisfied myself it was a job, I objected and desired to be excused from any participation in it. Two or three times it has been revived, but I have crowded off action. Chase gave me assistance on one occasion, and the scheme was dropped until this question of deporting colored persons came up, when Smith again brought forward Thompson's Chiriqui Grant. He made a skillful and taking report, embracing both coal and negroes. Each was to assist the other. The negroes were to be transported to Chiriqui to mine coal for the Navy, and the Secretary of the Navy was to make an immediate advance of $50,000 for coal not mined,-nor laborers obtained to mine it, nor any satisfactory information or proof that there was any decent coal to be! mined. I respectfully declined adopting his views. Chase and Stanton sustained me, and Mr. Bates to an extent. Blair, who first favored it, cooled off, as the question was discussed, but the President and Smith were persistent.85 Secretary Welles says that the matter ended there because Senator Pomeroy undertook a colonization scheme for getting negroes to emigrate. On December 15th of the same year, Welles again gives us an insight into the situation when he writes : He dislikes Seward's management, and the general course pursued in Cabinet and between the members generally. Thinks Seward the chief cause of the unfortunate state of things. Smith tells me he [Smith] has made up his mind to leave the Cabinet and accept the office of District Judge, which he can have.86 The report was correct, for a week later on Christmas day, Mr. Smith resigned his portfolio and was appointed by President Lincoln United States Judge for the District of Indiana in succession to Judge Elisha Mills Huntington, who had Secretary Smith called on me to unburden his mind. "Zbid., I, 160-151. 88Zbid., I. 195. 236 Indiana Magazine of History died the 26th of the previous October. On January lst, 1863, Caleb B. Smith returned to Indianapolis to take up his residence. He was successful and enjoyed his new position. The Journal thus characterized his service on the bench : As a Judge he was amiable and courteous to a degree which disarmed partisan bitterness at a period of unusual party exasperation, and his fairness was so evident that there could be little more complaint of it than of his demeanor. He saw the pith of a proposition, or a difficulty, readily, and could state it with freedom from embarrassing qualifications that enabled the most ordinary understanding to follow his reasoning closely up to his conclusion.81 Smith's health had not been good for some time and he probably wished the judgeship because he would have a less strenuous position than in Washington. He served but one year on the bench and felt that he was improving greatly in health when he was suddenly stricken at his office in the court on the morning of January 7, 1864. He ruptured a blood vessel during a fit of coughing, occasioning a hemmorrhage of the stomach. He lingered until evening and then expired. The funeral was held on the twelfth with state and national officers present and under the auspices of the Grand Lodge.38 President Lincoln ordered fourteen days mourning at Washington, and on January 9 a committee of the Indiana Bar was appointed to prepare resolutions. These were later drawn up and presented in the District Court in May, with suitable responses and eulogies by Judge White and Judge Davis. Mr. Smith was married at Connersville to Elizabeth B. Walton on July 8, 1831. She was a daughter of William Walton, one of the pioneers who had come from Ohio. There were three children, Albert who died in infancy, and a son and daughter (Rosalind) who survived their father. John Coburn in his Sketches of the Old Indiana Supreme Court Bar describes Mr. Smith as he appeared to the observer on the opening of the Court in November 1843 : Near by, sat Caleb B. Smith, of Connersville, almost youthful in *' Indianapolis Journal (daily), Jan. 9, 1864. "There le an intereating question concerning the resting place of the remains of Mr. Smith. In Crown Hill Cemetery Indianapolis, there is a mausoleum marked "Caleb B. Smith'' which bears the date "lsb4". The remains of Mrs. Smith, of her Daughter Mrs. Iiovey. wife of Governor Alvin C. Hovey and of a young man who was a relative of Mrs. Smith, were deposited in the mausol&m in later yeara. New facts have come to light which indicate that the body of Mr. Smith was not placed in the mausoleum but taken to Connersville and placed in a cemetery there beside the grave of an infant son who died before the father. See Anna Nicholas, The Story of Crown HiU (1928). 134. Bailey: Caleb Bbod Smith 237 appearance, under medium height, with smooth and oval face, already a famous orator at the bar, in the Legislature and on the stump; afterwards a mighty power in Congress, and in Lincoln's Cabinet. Mr. Smith, for fluency, rapidity, force and point, has rarely been equalled by any public speaker. His speeches found in the Congressional Globe confirm this view. When he died in 1865, he was the foremost orator of the Republican party in the nation.89 Judge C. P. Ferguson, who made a trip from Madison to Indianapolis as a boy, describes Mr. Smith in his Reminiscences of a Journey to Indianapolis in the year 1836: My father having arrived he took me to the Mansion House to room with himself. He permitted me to go with him to the State House on the morning of the organization of the House. I witnessed the ballotings for speaker and was told that the name of the man elected was Caleb B. Smith. I remember the speaker as a handsome, trimly-built man, hardly of middle age, well-dressed with black broadcloth, and I think he had black hair. He did not use a gavel, but a flat ruler was always on his desk. Upon taking his seat, he would rap with his ruler and then announce, "The houthe will pleathe come to order." Here I digress to say that it was probably twenty years after Mr. Smith was speaker before I saw him again when he made his appearance in court at Charlestown in connection with a suit to destroy the charter of the old Ft. Wayne and Southern Railroad Company. Time had made its ravages. Instead of a trim, well-dressed man with a head well covered with hair, I faced a gentleman inclined to corpulency, careless in dress, with scattering gray hair. But the lisping tongue was still there as was evident in a political speech he was induced to make in which he compared Judge Douglas to Baalam's Ass, several times, much to the merriment of his hearers, coming over the expression, "am I not thine athe?"40 M. L. Bundy, who knew Smith well, has the following to say of him: Smith, as a lawyer, stood in the front rank and as an advocate before a jury had no equal among his associates. On the stump his power over an audience was supreme, with no action, but standing like a statue the words and sentences flowed from him with irresistible power. He spoke rapidly, but invariably the right words came to express the idea intended, "like softest music to attending ears." He never told anecdotes in his public speeches, but among his friends in private conversation would often relate some story applicable to himself.41 In the editorial following Judge Smith's death in 1864, the Journal spoke of him in the following manner : "Bench and Bar of Indium, 63. Coburn wrote this passage in 1868, just before C. P. Ferguson, "Reminiscences of a Journey to Indianapolis in the Year 1336" in Smith's return from Cincinnati to Indianapolis. Indiana Historical Society Publications, 11, 354. UBundy. in the Indianian, V, 231-252. 238 Indiana Magazine of History It was chiefly as an orator, and especially as a popular or "stump" orator, that Mr. Smith excelled. Here he had few rivals, and no superior, In some important respects he had neither rival nor superior. His voice, singularly clear, sonorous, and penetrating rarely encountered a crowd that could exhaust its power without obtaining the full freight of thought it carried. His language was copious and appropriate, often striking, and always clear, and his style, though affecting little of the polished elegance of the pen, was rarely slovenly or feeble. He possessed the ability to argue a proposition convincingly, while covering it with apt and pleasant "hits," and could, when it served a purpose, say as bitter things as John Randolph himself. He rarely attempted a philosophical discussion of political questions, but treated them in the plain common sense way that sensible men usually speak of them to each other, and here lay the secret of his success. He could fire as high as anybody if it was worth while, but he knew it was no use, and so fired into instead of over his audience, and this discussion level with the comprehension and habits of his audience, enlivened by witty allusions, and apt illustrations, and carried forth by his, superb voice, made him the master of "stump oratory" that he was. When the occasion or the subject demanded higher treatment he was equal to it, and few men have made so powerful jury; speeches as he, or more complete and thorough legal arguments.42 The Sentinel, in its main editorial of the preceding day, gave the following estimate: Judge Smith discharged every public position to which he was called with dignity, ability and in accordance with his convictions of duty. As a public speaker he was graceful, forcible and eloquent and as a stump orator he had but few superiors. In politics he was a Whig, decided and enthusiastic and upon the disbandment of that noble party he followed the radical portion into the Republican ranks. The natural tendency of Judge Smith's mind was to conservatism, and he generally so expressed himself, especially the last year or two in his private conversations upon the difficulties of the country, but the surroundings of party influences guided his public action into the radical channels. While Judge Smith was not profound or learned, he possessed a comprehensive mind which readily grasped the subject to which it was directed, with the rare faculty combined of giving utterance to his ideas in language appropriate, eloquent and exhausting, illustrating them with the charms of oratory.48 Dr. Macartney, who recently wrote Lincoln and His Cabinet, may be quoted as follows: "He (Lincoln) was, I would say," wrote one who had heard Lincoln speak, "with the exception of lisping Caleb Smith, the most effective public speaker on the scene on which we have been looking." Another, a IndianaRolis Journal (daily), Jan. 9, 1864. State Sentinel (daily, Indianapolis), Jan. 8, 1864. Bailey; Caleb Bbod Smith 239 Smith's successor in Lincoln's Cabinet, John P. Usher, said: "He was a true orator. He was a man who from the rostrum, would talk to you until you would feel the blood tingling through your veins to your fingers' ends and all the way up your spine." Smith was one of those orators whose eloquence comes down to us as a tradition, and which it is impossible to test by any printed record, for Smith left less of such records behind him than any of our great American orators.44 Thus we take leave of a man who may truthfully be said to be fairly representative as a lawyer, business man, legislator, orator, judge, and statesman of the period that led up to and initiated the Civil War. (* Clarence E. Macartney, Lincoln and his Cabinet, 49.